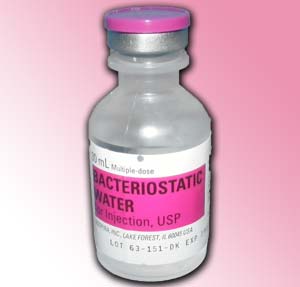 Bacteriostatic Water (Bac Water for short) is sterile, non-pyrogenic water containing 0.9% benzyl alcohol added as a preservative and is used when dissolving the powdered hCG and to dilute it to the desired potency. This bottle contains 30ml of Bac Water.
Do you have a question about this product?
Please use this form!
| Quantity | Price |
| --- | --- |
| 1-2 | $12.95 each |
| 3-5 | $12.45 each |
| 6-10 | $11.95 each |
$12.95 each
(quantity discounts are editable in the cart)

Go Back to All Supplies Listing