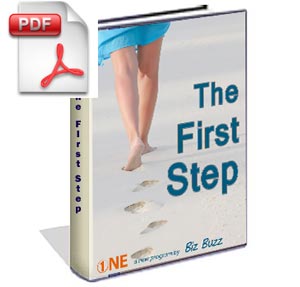 ONE is the new Buzz word!
What is One?
ONE is a new weight control program by Biz Buzz.  It is singular. It is complete.  It is a multifaceted plan helping you reach and maintain your weight loss goals.  It creates health routines and eating habits sticking with you for a lifetime. And it begins with The First Step.
What is The First Step?
The First Step is the initial facet of One.
It is a complete reworking of the original HTA Starter Manual.  There are massive improvements and revamping allowing the user to experience, perhaps for the first time in ages, a completely successful round.
It eliminates false starts and dieting restarts.  It can prevent eating routine yo-yoing.  It promotes wellness and confidence in reaching your health goals. And it creates momentum and weight loss stability advancing toward the program's next step.
The First Step features include:
Over 100 Phase 2 Recipes
21 day Short Round Menu Plan (P2 Portion)
Complete Pounds and Inches Manuscript by Dr. A.T.W. Simeons
The Biz Buzz Nuts and Bolts Adjustments made to The hCG Protocol
Illustrated Mixing hCG Tutorials for Dosing
Tools for Tracking the Momentous Progress In Your Body
Extensive Tips and Tricks Section
Free 30 Day FitCamp Membership
Comprehensive FAQ Section, Including:

Cycling
Reshaping
Modified Correction Days
Supplements and Medications
Overcoming Sicknesses
Conquering the Nervous Nellies
Much, Much More
We are pleased to offer The First Step eBook with 250+ pages, 100+ recipes, and one month FitCamp membership all for the exceptional value of $19.95!
If you are ready to make some life changes and want to engage in a highly effective weight loss plan, The First Step is just the ticket to get you started.
Do you have a question about this product?
Please use this form!
$19.95 each

Go Back to All Supplies Listing