Too bad avocado season isn't forever!  I don't know about you, but avocados are a daily occurrence in my home when they are in season.  I seriously cannot find enough to do with them!
I was in the mood to find something new to do with my last avocado of the week and I wanted to use the limited items I had available in the house before next grocery trip.  When I get like (trying to find something to eat with limited items) I go to one of my favorite all time sites:  www.allrecipes.com
You know that website was designed specifically for me yes?  ::giggle::
They have a function on their website that you can search by ingredient.  When I have limited ingredients, I go to the website and type in what I have on hand and then see what other people have come up with using those particular ingredients.  This particular day I typed in avocado, cream cheese, and salmon to see what it came up with!
What a way to get inspiration!  I looked at a few recipes and decided to combine a few and this is what I came up with!  I always gotta tweek recipes to make them HIGH FAT!!!
Enjoy!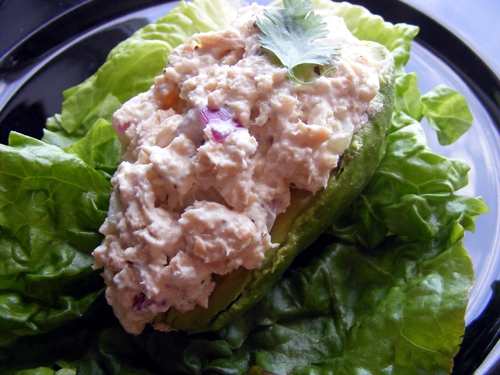 Salmon Stuffed Avocado
3 servings
10 minutes prep
20 minutes start to finish
6 ozs cream cheese (softened)
1/4 cup mayonnaise
2 tbsp finely chopped red onion
1 tbsp lemon juice
1 tsp celery seed
1/2 tsp pepper
5 ozs salmon (drained and flaked)
3 avocados (ripe)
In a small mixing bowl, beat the cream cheese and mayonnaise until well blended. Add the onion, lemon juice, celery seed and pepper. Stir in the salmon. Cut avocados in half lengthwise; remove pits. Spoon salmon salad into avocado halves. Serve immediately.
Entire Recipe:
2146 Calories
204g Fat (81% calories from fat)
54g Protein
54g Carbohydrate; 16g Dietary Fiber
280mg Cholesterol; 975mg Sodium; 4386mg Potassium
Per Serving:
715 Calories
68g Fat (81% calories from fat)
18g Protein
18g Carbohydrate; 5g Dietary Fiber
93mg Cholesterol; 325mg Sodium; 1462mg Potassium
Serving Idea:  Totally awesome as a meal in itself!  What could you add?  ::giggle::
Note:  Because of the nature of the avocado, this needs to be eaten immediately.