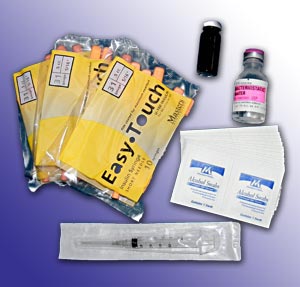 This is the kit everyone has been asking for!
Introducing the 23 Day Injection Kit!
This kit is perfect for an abbreviated round. But just in case…we go a little further for you!
This is what is included:
30 EASY-TOUCH 1/2cc x 30g x 5/16 Insulin Syringes- Easy Touch brand insulin syringes provide the best combination of quality, comfort, and value. The ultra fine, surgical stainless steel needle of the Easy Touch insulin syringe is coated with a lubricant film for maximum comfort. No "Dead Space" design minimizes waste and makes measuring more precise. Easy to read graduated numbers minimize dosage errors. For sub-cutaneous application. YES…we're sending you extras…just in case!
30 ml Bacteriostatic Water- Sterile, non-pyrogenic water containing 0.9% benzyl alcohol added as a preservative. Packaged in a 30 ml multi-dose vial.
1 10 ml AMBER Sterile Vial w/Silver Aluminum Seals– Amber 10 ml certified depyrogenated and sterile vials. These sterile vials are Type 1 borosilicate assembled with butyl stoppers and colored aluminum seals. Neck size is 20mm.
30 Alcohol Wipes– Individually packaged, single use 2 ply alcohol pads. Presoaked with 70% Isopropyl alcohol.
1 Large Syringe w/Needle for mixing
Do you have a question about this product?
Please use this form!
| Quantity | Price |
| --- | --- |
| 1-2 | $39.95 Each |
| 3-5 | $34.95 Each |
$39.95 each
(quantity discounts are editable in the cart)
Go Back to All Supplies Listing