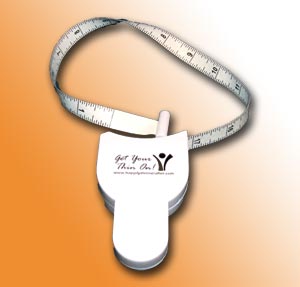 Custom imprinted with the HTA Logo to help you remember your goals to thinness!!!
Non-Stretch Fiberglas Fabric 1/2 inch wide Retractable tape for taking Accurate Body Circumference and Linear measurements.
Measures any body part: arm, thigh, calf, chest, waist, hips, and more!
Stylish design helps with ease of measurement!
Sturdy vinyl tape makes it long lasting and very simple to use!
Push-button retraction and locking feature ensure snug measurement and superior accuracy!
Measures up to 80 inches in length
How to Use:
Pull the end of the tape around any body part that you want to measure (pressing the button in the center will make it easier to pull)
Place the rod at the end of the tape into the circular slot
Press the button in the center and let the tape retract to a snug fit
Watch your improvement!
| Quantity | Price |
| --- | --- |
| 1-2 | $7.95 each |
| 3-5 | $7.45 each |
| 6-10 | $6.95 each |
Do you have a question about this product?
Please use this form!
$7.95 each
(quantity discounts are editable in the cart)

Stay tuned … a new shopping area is in the works.  Projected completion date is February 13, 2017.  If you need products before then, I will be happy to take your order if you contact me using
this
form.
Go Back to All Supplies Listing
Note:
Get Your Thin On does
NOT
sell hCG.  Order your hCG
HERE
!
Prices above are per individual item and this product may differ slightly from image.
Only to the USA – please
contact us
to get a quote for international shipping.