Note: The hCG Shop normally recommends using Bac Water for mixing with hCG.  Sterile Water can be used in it's place, however the difference is that you must pre-fill all your syringes and then freeze.  Remove one syringe each day, and let warm before dosing.  There is no preservative in Sterile Water (as there is in Bac Water), so the need for freezing.  If you have any questions, please feel free to use the contact form below.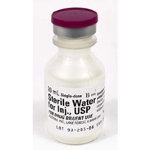 Sterile Water for injection 20ml USP is a sterile, single-dose nonpyrogenic water designed for injection. Sterile water for injection is used to dissolve or diluent drugs. Bacteriostatic and preservative free.
Do you have a question about this product?
Please use this form!
| Quantity | Price |
| --- | --- |
| 1-2 | $6.95 each |
| 3-5 | $6.45 each |
| 6-10 | 5.95 each |
$6.95 each
(quantity discounts are editable in the cart)

Stay tuned … a new shopping area is in the works.  Projected completion date is February 13, 2017.  If you need products before then, I will be happy to take your order if you contact me using
this
form.
Go Back to All Supplies Listing
Note:
Get Your Thin On does
NOT
sell hCG.  Order your hCG
HERE
!
Prices above are per individual item and this product may differ slightly from image.
Only to the USA – please
contact us
to get a quote for international shipping.