Who doesn't like Beef Stroganoff?  I don't think I have met a person yet.
Some interesting facts about this comfort food dish.
The dish originated in Russia, not in Germany like I originally thought.  Although the name is associated with Count Paul Stroganoff (Pavel Alexandrovich Stroganov), a 19th Century Russian Diplomat, the actual origins of the dish have never been confirmed.
The basic original recipe ingredients have not changed over time:  beef, mushrooms and sour cream.
Elena Molokhovets' classic Russian cookbook, A Gift to Young Housewives (1861) gives the first known recipe for Beef Stroganoff which involves lightly floured beef cubes (not strips) sauteed and then sauced with prepared mustard and bouillon (a broth).  It was finished with a small amount of sour cream.
Over the years, the recipe has expanded to include onions and a thick tomato paste, however, I have never enjoyed a stroganoff with a tomato base.  I stick to the basics but add onions.
Well, there is your history lesson for today … enjoy!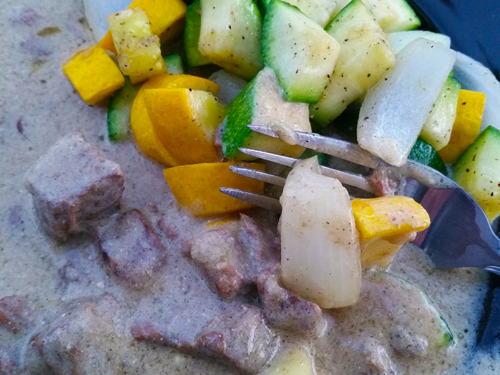 Crock Pot Beef Stroganoff
4 servings
15 minutes prep
4 hours and 15 minutes start to finish
2 tablespoons butter
1 large onion, diced medium
2 garlic cloves, minced
1 pound beef (sirloin, top round, stew meat), bite size pieces
1 cup beef or chicken broth or stock (MSG and Gluten Free)
10 ounces button mushrooms, washed
1 bay leaf
pinch allspice
1/2 teaspoon thyme
1 teaspoon sea salt (or less, to taste)
1/2 cup sour cream (room temperature)
chopped cilantro for garnish (optional)
Melt butter over medium heat in a skillet, add garlic and onion and stir until translucent.  Add beef and brown.
Layer in the bottom of a crock pot.  Add broth/stock, mushrooms and seasonings and cover.  Put on low for 4-6 hours, or high for 2-3 hours, until beef is fork tender.
Stir in sour cream.
Garnish with cilantro.
Entire Recipe:
1732 Calories
136g Fat (71% calories from fat)
94g Protein
32g Carbohydrate; 6g Dietary Fiber
417mg Cholesterol; 4569mg Sodium; 2859mg Potassium
Per Serving:
433 Calories
34g Fat (71% calories from fat)
24g Protein
8g Carbohydrate; 2g Dietary Fiber
104mg Cholesterol; 1142mg Sodium; 715mg Potassium
Serving Idea:  Serve over zoodles, mashed cauliflower or roasted veggies.  The sky is the limit!
Note: