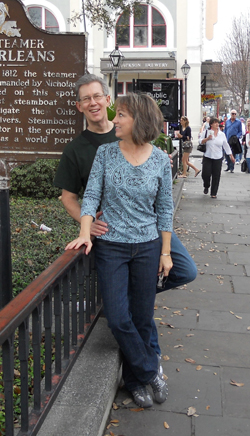 Working one on one with Biz has been extremely helpful.
My husband & I discovered hCG over 2 years ago. You'd think we would be pros by now … but we have found that we benefit greatly from Biz's experience with hCG and her expert coaching. Without Coach Biz's help we would have trouble maintaining. She has explained exactly what foods to eat & what to avoid. She was there when we slipped up & encouraged us to stay with it.  I've done P3's on my own, but with her guidance I have learned much more about how to maintain the losses we've attained at a higher calorie count than I expected!  She has guided us & explained why we need to stay away from certain foods & why we needed to add other things to maintain our weight.
Working one on one with Biz has been extremely helpful.  She is direct and to the point.  If I need to adjust, she tells me what I need to do – it's up to me, and she leaves it that way, but I know what I need to do.  She has taught me that being pro-active is important … I don't need to be re-active.  I can plan or I can fail to plan.  I am not a victim … I need to work a plan that I choose and I am responsible for my progress.
After Christmas, I worked my way down to get my holiday weight gain off … but I didn't work it quite right and never got my calorie intake up where it should be.  I was very dependent on correction days. Then we went on a cruise and regained some of the holiday weight.  We've remedied that with another P2 round, and I've just signed up to have her coach me again so that I can maintain again at a higher caloric level.  I want her expertise to do it right this time, and I know she'll get me where I need to be with her knowledge and helpful advice.
We have both lost quite a bit of weight on this protocol; Bill has lost 35 and I've lost 45 on hCG, and after being on diet after diet, this is really the easiest program that we have ever found.  I recommend Biz and this site to people all the time.  She and this site are huge factors in our new skinny lives.  Life on this side of the hCG protocol is the best!  Even though we aren't newbies to this protocol, we are benefiting greatly by having Biz on our side to help us to learn to eat to live instead of living to eat.
Karen and Bill
Bod Squad Members
Arkansas
Biz starts a new cycle the first Monday of every month.  You can always get more information and an application by clicking here.