This is one of my favorite "go-to" recipes.  I usually will always have the ingredients in this recipe on hand and when I can't find anything else to make, this is an easy choice.
It's also great as a "to-go" recipe as it travels well in a small cooler.  And if you add it on a bed of lettuce, it can become a complete meal full of protein (bodily fuel for cell and tissue maintenance), fats (for satiation and brain health) and carbs (for energy) without a lot of muss or fuss.
Whoever came up with the idea that curry and fruit goes together, well, they need to be given a Gold Medal.  The two flavors are incredible!
I grew up with curry in stews (hot foods); but as a condiment for cold foods, I didn't experiment until much later in life, and now it's a case of trying to find more recipes that I can add curry to!
I found out only recently that curry isn't a spice on it's own, but rather a conglomeration of spices!  In other words, there is no such thing as a "curry" plant.  Yeah, sometimes it takes me awhile!
I also never realized it originated for the South Asian cuisine, thinking for a long while it was more of an Indian spice.  Again, I learn something new all the time!
I present you with Fruity Curry Chicken Salad!  Enjoy!!!
Speaking of curry, do you have any curry recipes you would like to share with me?  Please leave a comment in the section below and tell me what it is, or where to find it!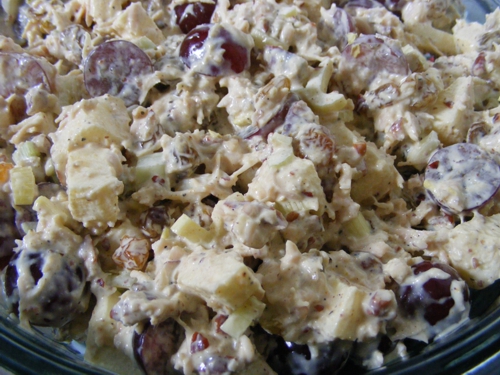 Fruity Curry Chicken Salad
8 servings
10 minutes prep
60 minutes start to finish (mostly to let set for flavors to mingle)
2 small cans white chicken (watch for ingredients)
2 stalks celery, diced
1/2 red onion, chopped
1 firm apple, peeled, cored and chopped
1/3 cup golden raisins
1/3 cup seedless red grapes, halved
1/2 cup chopped toasted pecans
1/8 teaspoon ground black pepper
1/2 teaspoon curry powder
3/4 cup mayonnaise
In a large bowl combine the chicken, celery, onion, apple, raisins, grapes, pecans, pepper, curry powder and mayonnaise. Mix all together, tossing to coat. Let set to chill and allow flavors to mingle before serving.
Entire Recipe:
2339 Calories
201g Fat (73% calories from fat)
72g Protein
94g Carbohydrate; 14g Dietary Fiber
234mg Cholesterol; 2445mg Sodium; 1705mg Potassium
Per Serving:
292 Calories
25g Fat (73% calories from fat)
9g Protein
12g Carbohydrate; 2g Dietary Fiber
29mg Cholesterol; 306mg Sodium; 213mg Potassium
Serving Idea:  This is actually great on a bed of chopped romaine.  A meal in itself.
Note:  You can use 1 large skinless, boneless chicken breast that has been boiled and shredded instead of the canned.  I use canned because it's easy, so makes this meal quite easy to prepare.  I get canned chicken from my grocery store that is only chicken, water and sea salt.