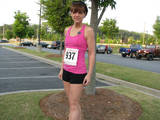 Biz was nonjudgmental when she was working with me.
My problem with protocol hasn't really been with P2 or P3, it's been P4.  I reached goal weight in 2009 and have been maintaining with a few bumps in the road.  I hit a big bump Christmas 2010.  I was able to lose the weight with protocol but my confidence was really shaken with maintaining it.
Biz was nonjudgmental when she was working with me. She has kept me accountable and encouraged me with the choice I made for a maintenance program.  She didn't try to talk me out of it, or to do it her way.  Biz has congratulated me on my successes, gave me feedback, posed challenging questions that made think outside of my comfort zone and gave me a gentle kick in the backside when I needed it.
She has been there to help me get confident that I can make it through some sticky places and that I will be able to maintain.
Biz is a great coach and gives you the confidence to make it through P2, P3 or maintaining.
Shawna B.
Former Bod Squad Member
Georgia
Biz starts a new cycle ANY Monday. You can always get more information and an application by clicking here.