Whoever invented salsa should be crowned King of the World!  I am serious!  There are so many delectable things you can do with salsa, and my latest obsession seems to be focused on fruit salsas.  I don't know what it is, but the combination of sweet and hot is just YUM when it comes to salsa.  This recipe is no exception.
Peaches are plentiful this time of year, but the season is coming to a close.  🙁
We have several "on the side of the road" markets up and down our main drag, and the other day one of them had peaches that looked so yummy I actually turned around on a busy and full of traffic Sunday afternoon (it took me 10 minutes to get turned around) to get some.  And they did not disappoint!  So I have been making 'peach' everything this entire week!
This recipe was a HIT with the family, so much so, they asked me to make more!  How could I say no?
Did you know that there is an incredible variety of peaches, just like apples?
One more thing, peaches are one of those fruits that I have found work well on P2.  They have a low glycemic index, on the same range as strawberries, and they come to around the same calorie count.  If you are getting bored with the four allowed fruits, give peaches a try.  And of course, your mileage may vary!
Enjoy!!!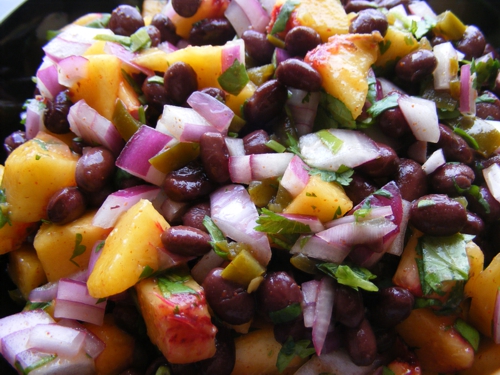 Black Bean and Peach Salsa
4 servings (approximately 1/2 cup each)
10 minutes prep
120 minutes start to finish
1 can black beans, 15 oz (drained and rinced)
2 large ripe peaches, peeled and chopped
1 small red onion, chopped
1/4 cup cilantro, or to taste
2 garlic cloves, minced
1/2 tsp red pepper flakes
1 lime, juiced
1 tbsp apple cider vinegar
1/4 tsp salt
1/8 tsp black pepper
Place beans, peaches, onions, and cilantro in a large mixing bowl and gently toss. Add garlic, red pepper flakes, lime juice, apple cider vinegar, salt and pepper. Gently toss again. Let set for about 2 hours to let the flavors meld. Enjoy!
Entire Recipe:
859 Calories
4g Fat (6% calories from fat)
48g Protein
170g Carbohydrate; 38g Dietary Fiber
0mg Cholesterol; 565mg Sodium; 3950mg Potassium
Per Serving:
215 Calories
1g Fat (1% calories from fat)
12g Protein
43g Carbohydrate; 9g Dietary Fiber
0mg Cholesterol; 141mg Sodium; 988mg Potassium
Serving Idea: Great on a bed of lettuce with grilled chicken on the side.
Note:  This works best with FRESH peaches, not frozen.  And they need to be firm, not mushy.