You know what?  I could live on salsa, any type of salsa or dip every day for the rest of my life.  Give me some sort of dip or salsa, some raw veggies and some blue corn chips, and I am a happy camper!!!  Do you know how many dips and salsas there are in the world?  I could probably try one a day and still never touch the sheer amount of variety!  (This is just a sample!)
This one I came across simply by accident one day.  I had a can of black beans and a can of white and gold corn in my pantry and didn't know what to do with it and wanted something different.
I have taken this dish to many a get-togethers and I always get asked for the recipe!  If you do that, don't plan on taking any home, it disappears.  Make a double batch, and only take half.  Enjoy!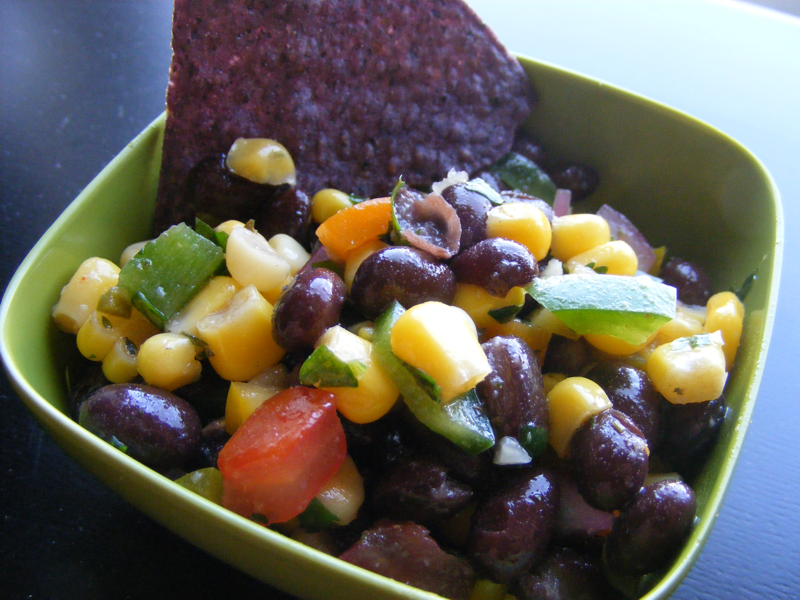 Cowboy Caviar
8 servings (approximately 1/2 cup, or more, per serving)
20 minutes prep
60 minutes start to finish
1 (15.5 oz) can black beans, drained and rinsed
1 (15.5 oz) can white and yellow corn, drained and rinsed
3 Roma tomatoes, diced
1/2 medium sweet onion, chopped
1/4 green bell pepper, finely chopped
1/4 red bell pepper, finely chopped
1/2 cup chopped pickled jalapeno peppers
1/2 tsp garlic salt
1/2 tsp Italian seasoning
1/2 cup light tasting olive oil
1/2 cup red wine vinegar
3/4 cup chopped cilantro
Mix beans, tomatoes, corn, onion, red and green bell peppers, and jalapeno peppers in a large bowl. Season with garlic salt and Italian seasoning. Add oil, red wine vinegar and cilantro; toss to coat. Refrigerate for 30 minutes or more, or until ready to serve.
Entire Recipe:
1856 Calories
127g Fat (61% calories from fat)
39g Protein
181g Carbohydrate; 36g Dietary Fiber
0mg Cholesterol; 4,479mg Sodium; 3,387mg Potassium
Per Serving:
232 Calories
16g Fat (61% calories from fat)
5g Protein
23g Carbohydrate; 4g Dietary Fiber
0mg Cholesterol; 560mg Sodium; 423mg Potassium
Serving Idea:  This is a great pot luck type dish.  Goes well with organic blue corn chips, but also with any sturdy veggie.  Also great as a salsa for scrambled eggs.  Try a dollop of sour cream on top!
Note:  If you don't use canned veggies, get a bag of black beans and prepare yourself and use frozen corn kernels.  For the most part, this recipe is considered gluten-free, but you have to be careful of your beans, check labels.