I had no idea, but did you know that Salsa is considered the number one condiment in the United States?  According to Food Product Design magazine, as of December 2000, salsa replaced ketchup as the number one condiment in the US!
Salsa is one of those things that everybody has their own recipe as to what they think is best, however, I felt it important to provide you with a base that you can tweak on your own.
I have found the following recipe fits that requirement quite nicely.
Make sure you pay attention to the notes at the bottom of the recipe!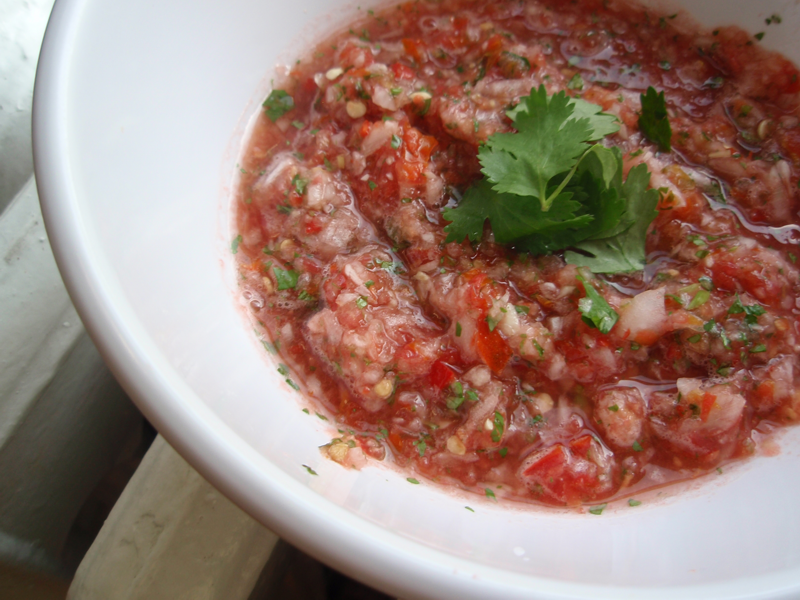 Salsa
8 servings (approximately 1/4 cup each serving)
10 minutes prep
15 minutes start to finish
3 large Roma tomatoes, washed and quartered
1 green jalapenos, washed, seeded and chopped coarse*
1 red jalapenos, washed, seeded and chopped coarse*
1 small sweet onion, quartered
1/2 tsp vinegar
1/2 tsp sugar (use sugar, it cuts the acidity)
1/2 tsp ground cumin
2 cloves of garlic, chopped coarse
1/2 tsp salt
Juice of 1 fresh limes, or more if desired
1 small bunch of cilantro, washed, stemmed and chopped, or more if desired
Place everything into a food processor.  Pulse until not quite pureed.  Chill and let flavors blend for about 30 minutes before serving.  This mixture will last about a week in an air-tight container.
*If you want this hotter, add some of the jalapeno seeds or use a hotter pepper such as habanero. If heat isn't your thing, use Anaheim chiles or just a plain bell pepper.  Better yet, to kick it up a notch, roast your jalapenos over either an open flame on a gas stove or grill or broil until blackened in your oven.  Take the peppers from flame or heat, place in a brown paper bag, seal it up and wait about 15 minutes, until the peppers are cool. Peel, seed and chop to use.
Entire Recipe:
174 Calories
2g Fat (8.7% calories from fat)
6g Protein
41g Carbohydrate; 8g Dietary Fiber
0mg Cholesterol; 1111mg Sodium; 1246mg Potassium
Per Serving:
22 Calories
trace Fat (8.7% calories from fat)
1g Protein
5g Carbohydrate; 1g Dietary Fiber
0mg Cholesterol; 139mg Sodium; 156mg Potassium
Serving Idea:  Great with Organic Blue Corn Chips.  Most excellent as a topper to eggs, salads, grilled meats … almost anything!
Note:  If you don't have a food processor or blender, just finely chop all ingredients.  This produces more of a Pico de Gallo rather than a salsa, but just as delish!
hCG Note:  This works well throughout all phases of The hCG Protocol.  I count 2 tbsp or less as a "spice" when on P2.