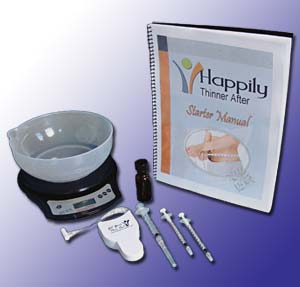 "How do I get started?"
This is one of the first things you ask after you discover the wonderful and incredible results that come with The hCG Protocol.
The first thing you MUST do is to read Dr. Simeons' Pounds and Inches. After you have read the manual, then you might have said to yourself, "Dr. Simeons talks about doing injections, do I HAVE TO DO SHOTS???" The simple answer is NO! There are TWO ways of dosing hCG, one is injections, and one is "Under the Tongue" (Sublingual).
Introducing the Get Your Thin On Starter Kit! All you need to get started (minus the hCG) is put together in one simple yet effective package. From the "Quick Start" guide to detailed charts to help you track your progress, beginners and "veterans" alike will find the manual and kit useful!
Starter Kit Features:
55+ page Starter Kit manual – Our team has worked hard to bring you the most comprehensive, yet easy to understand manual. The manual includes a fantastic Quick Start guide complete with pictures demonstrating the mixing procedure. Additionally we provide charts that you can copy over and over again to track your progress in your personal story. We also include a helpful Tips & Tricks section as well as a FAQ to guide you along. And no, we didn't forget about adding a slew of recipes to help you get started off right!
Digital Kitchen Scale – A quality digital kitchen scale for food measurement. Measures in both ounces and grams. Batteries INCLUDED!
Two 1ml syringes without needles (for dosing)
One 5ml syringe with needle (for mixing)
Tape measure
Amber vial (for storing)
Support – We want to help you make it! You can visit us here in the forums for the full details!
Do you have a question about this product?
Please use this form!
$59.95 each
(quantity discounts are editable in the cart)

Go Back to All Supplies Listing