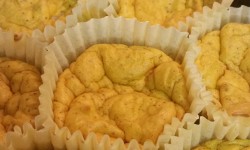 First of all, what the heck is a serniki?
In reality, Serniki is a village in Poland, according to Wikipedia.  ::giggle::
To be frank, I really can't remember when I first heard the word serniki, but I do remember when I did it was in reference to a small cheesecake.  When you look up cheesecake on Wikipedia, you will find all the different names cheesecake is called around the world, and in Poland they are called sernik.
No matter what they are called, they are a delish dessert that has one of the best features known to man when it involves dieting.
Portion […]