First of all, what the heck is a serniki?
In reality, Serniki is a village in Poland, according to Wikipedia.  ::giggle::
To be frank, I really can't remember when I first heard the word serniki, but I do remember when I did it was in reference to a small cheesecake.  When you look up cheesecake on Wikipedia, you will find all the different names cheesecake is called around the world, and in Poland they are called sernik.
No matter what they are called, they are a delish dessert that has one of the best features known to man when it involves dieting.
Portion control.  ::giggle::
But seriously … because you make these in cupcake size, you can easily make sure you are getting exactly what you need to stay on track during your maintenance phase.
It's that time of year when everything is pumpkin … do I need to tell you my love for Pumpkin Spice Lattes from Starbucks?  I wait all year for at least one during the season as an indulgence.
Because try as I might, I cannot duplicate the taste.
What I can tell you is that these tasty morsels will make you forget about pumpkin pie for turkey day, and depending on what kind of sweetener you use, they could be classified as high fat.
Fun Facts About The Pumpkin!
Pumpkins contain potassium and Vitamin A.
Pumpkin flowers are edible.
In early colonial times, pumpkins were used as an ingredient for the crust of pies, not the filling.
Pumpkins were once recommended for removing freckles and curing snake bites.
Pumpkins are 90 percent water.
Native Americans flattened strips of pumpkins, dried them and made mats.
Each pumpkin has about 500 seeds.
Pumpkins are fruit.
Enjoy!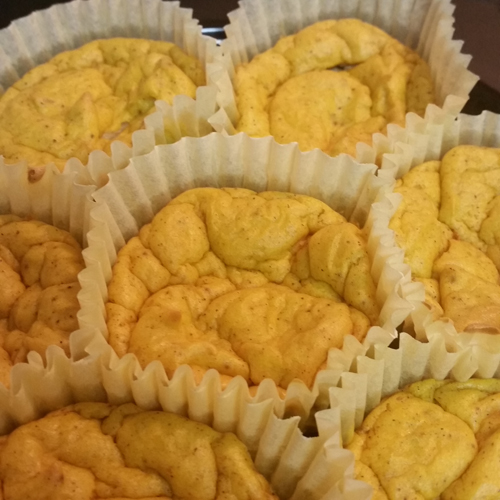 Pumpkin Sernikis
24 servings
24 ounces cream cheese — softened
3 large eggs
2 teaspoons vanilla extract
1 cup sugar equivalent
15 ounces pumpkin, canned (no salt)
3/4 teaspoon nutmeg
3/4 teaspoon cinnamon
1/4 teaspoon cloves, ground
Preheat oven to 300 degrees.
Add the sugar equivalent to the cream cheese and blend well.
Add eggs one at a time, blending each time.
Add vanilla, blend.
Add canned pumpkin and remaining ingredients and blend again.
Fill a muffin pan with paper liners (you HAVE to use liners with this recipe) and fill each with about 2/3's of the batter.
Bake for 40 minutes. Cool and then chill.
Note:  I have two muffin pans so I just make all 24 at the same time.
Per Serving:
116 Calories
11g Fat (81.0% calories from fat)
3g Protein
2g Carbohydrate; 1g Dietary Fiber
58mg Cholesterol; 94mg Sodium