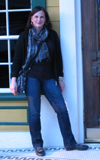 Thank you Coach Biz for accompanying me on this very exciting journey…
Had someone told me a few years ago that I'd find the solution to reaching my weight loss goal in my late 50's, I wouldn't have believed it for a moment. After a significant weight loss, I was stuck in a long-term plateau with 30 pounds to go, and had lost hope of reaching my goal. A spam ad for hCG arrived in my email box, and I was curious. Ever the skeptic, I researched for months and spent a lot of time contemplating. I read everything I could find, found several coaches, and chose Coach Biz.
Right decision! Before I even started the first round, I enlisted her help in deciding which method to use. The daily check-in has been invaluable, and it quickly became apparent that I couldn't have done this on my own. Her encouragement, humor, support and wealth of information kept me on track during the weight loss period. Her style is no-nonsense, thoughtful and totally without judgment. After two rounds, I'm at goal and plan on staying with her for at least the next year. I've quickly discovered that the weight loss phase is the easy part, and that I need her guidance and wisdom more than ever in maintaining.
After years of struggle, I believe that I have finally found the solution to keeping my weight where I want it, and feeling great about myself. It's not easy … but the most effective solution by far.
Thank you Coach Biz for accompanying me on this very exciting journey to optimum health and feeling better than ever.
VG
Northeast US
Former Bod Squad Member
Biz starts a new cycle ANY Monday.  You can always get more information and an application by clicking here.