Brrrr, it's cold outside!
A lot of the country is surrounded by cold … and what is better than to warm yourself up from the inside out?
When you are on P2, the body tends to react to cold a little bit differently than when you are eating normal maintenance.  Most seem to stay cold, so warm foods are just the ticket.
I know my favorite go to soups/stews are those with beef and tomatoes.  They just seem to create a hearty and satiating meal that warms me up inside.  This soup adds radishes to act like a potato … and if you cook it just right … when the radishes are not tough, but not mushy, it really does give your mouth that feel of it being a potato … try it and see!
I add cilantro, well because anything with cumin in it needs cilantro … like I need an excuse! ::giggle::
Enjoy!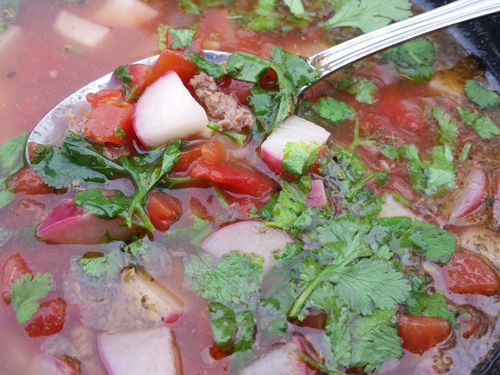 Beef and Faux-Tato Soup
1 serving
5 minutes prep
35 minutes start to finish
3.5 ounces lean (95%) ground beef
2 cloves garlic
1/2 cup water
6 ounces tomato, crushed
1 cup beef stock
3.5 ounces radishes, chopped
1/2 teaspoon cumin
1 teaspoon oregano
1 dash salt
1 dash pepper
In saucepan, brown the ground beef, adding the garlic and water.  Let simmer for a couple minutes.
Add the tomatoes, stock, spices, and radishes.
Bring to a slow boil and cook for about 15 minutes until radishes are cooked (easily pierced by a fork – like boiling potatoes).
Per Serving:
227 Calories
6g Fat (27% calories from fat)
24g Protein
15g Carbohydrate; 4g Dietary Fiber
62mg Cholesterol; 2498mg Sodium; 706mg Potassium
Serving Idea:
Note: