If one were to look at my recipe index here, one would get the impression that I like curry.
That would be an understatement.  ::giggle::
My ex-husband didn't like the smell or taste of curry … in fact, I couldn't have it in the house as it made him feel nauseous.  So that means for about 15 years, I did without this wonderful spice.  I am more than making up for it now.  HA!
Curry is interesting as it's not just one spice, but a conglomeration of different spices, most of the time:
cumin seeds, toasted
cardamom seeds, toasted
coriander seeds, toasted
ground turmeric
dry mustard
cayenne
However they make it, I am enamored with it's aroma and it's taste.  In fact, one of my go to snacks is raw veggies and curry mayo.  Yum.
My Aunt Lucille (my Mom's sister) used to make the most awesome chicken or beef curry in the world.  I mean, it was to die for.  Unfortunately part of her recipe called for those canned soups, which I can't eat any longer, so this the next best thing, yum.
Enjoy!
Please be aware that this picture is a modified version of the recipe below … I added chickpeas, carrots and celery.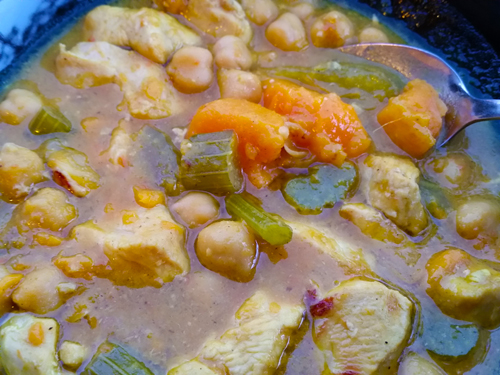 Curry Chicken
4 servings
20 minutes prep
60 minutes start to finish
4 chicken thighs, boneless and skinless, chopped in bite size pieces
2 medium sweet potatoes, peeled and chopped into large bite size pieces
1 small sweet onion, diced large
4 cloves garlic, minced
1 can of coconut milk, (14 ounces)
1 cup chicken stock (homemade)
2 tablespoons curry (or to taste)
2 tablespoons butter
sea salt, as desired
In a large skillet, melt half the butter on medium heat.  Saute the garlic and onions until the onions are translucent.  Add chicken and brown lightly.  Remove from skillet into a bowl.
In the same skillet (no need to wash it out), melt the other half of the butter on low heat.  When melted, add curry and blend well.  Add in coconut milk and stock and swirl it around.
Throw in the chicken, onions, garlic and butter mixture along with the sweet potatoes to the coconut milk mixture and turn the heat up to medium high.  Once it starts simmering, turn heat to medium low and cover.
Let cook for about 30 minutes, stirring occasionally.
To thicken, take out about 1/3 of the veggies and puree, add back in, stir and serve!
Entire Recipe:
1913 Calories
139g Fat (65% calories from fat)
78g Protein
94g Carbohydrate; 17g Dietary Fiber
378mg Cholesterol; 1672mg Sodium; 2252mg Potassium
Per Serving:
478 Calories
35g Fat (65% calories from fat)
20g Protein
23g Carbohydrate; 4g Dietary Fiber
94mg Cholesterol; 418mg Sodium; 563mg Potassium
Serving Idea:  This dish is highly customizable.  You can add more heat in the form of jalapenos, or try any type of veggies.  I like it with carrots, celery and chick peas to make it more of a stew.  Please keep in mind that if you add various veggies to this dish, you will change the calorie count.  Also, you will have to change the serving sizes.  When I made the above, it was around 8 servings!  ::giggle::
Note:  Curry is a unique spice … people either love it or hate it.  Some are allergic to it.  The type of curry you use can impact the taste of the dish, so choose your curry wisely.