Quinoa is a pretty nifty whole food.
Technically speaking, quinoa is not a grain, although it looks, acts, tastes, feels, and behaves like one.  So if you are on a grain free diet … quinoa can find it's way to your palate.
Quinoa is the seed of the Chenopodium or Goosefoot plant … and by the way, those leaves are edible.
Its frequently called a grain because it is used and cooked like one, and is often called an Ancient Grain and a Wholegrain. These terms can make it confusing, but trust me, it is not a grain. It is a gluten free super-seed, a pseudo-cereal.
Instead of me trying to explain all the wonderfulness of quinoa, why don't I just share with you a link that says it all:  Quinoa from the website The World's Healthiest Foods.
Try subbing quinoa for oats, rice, barley, orzo, bulgar, millet, or flour … yup, it's that versatile!
I like to make Fried Quinoa … it's better than fried rice … just look!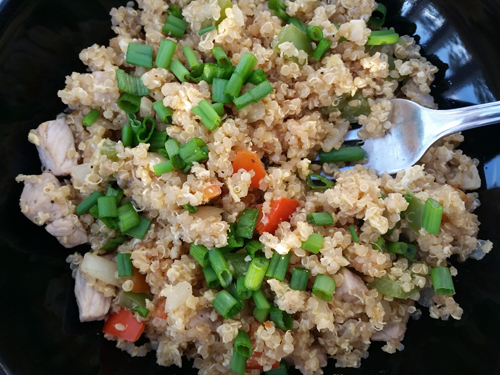 Mock Fried Rice
1 servings
15 minutes prep
45 minutes start to finish
1/4 quinoa (dry, no rinse brand)
1/2 cups cold water
salt to taste
1 teaspoon oil or butter
3 ounces lean pork (cubed)
1 egg (beaten)
2 tablespoons diced red bell pepper
2 tablespoons diced green pepper
1 tablespoon diced sweet white onion
1 tablespoon diced green onion (for garnish)
1 clove garlic, minced
1 teaspoon rice vinegar
1 teaspoon gluten free soy-type sauce (or, to taste)
1/4 teaspoon chile type sauce (such as Sambal Oelek)
Place quinoa, water and salt in a sauce pan and bring to a boil … reduce heat to low. Simmer, covered, until quinoa is tender, about 15 minutes. Remove from heat and let sit for 5 minutes, then fluff quinoa with a fork and set aside.
Heat oil or butter and garlic in a medium skillet over medium heat. Add the pork, red and green bell pepper and the onion and stir until the pork begins to brown, about 5 minutes.
Stir in quinoa until warmed through, 2 to 3 minutes. Add vinegar, soy-type sauce, and if desired, the chile sauce.
Clear a circle in the middle of the skillet and add beaten egg … scramble and then mix with the rest of the mixture.  When egg is cooked through, dish is done … transfer to plate or bowl and garnish with green onion.
Entire Recipe:
396 Calories
15g Fat (34% calories from fat)
31g Protein
35g Carbohydrate; 4g Dietary Fiber
267mg Cholesterol; 471mg Sodium; 808mg Potassium
Serving Idea:
Note: You can sub the quinoa and use brown rice instead.  This is great for the Mix It Up Experiment Stage 3!