There are days when I prefer just to go meatless.
In fact, not too long ago I was in the habit of doing Meatless Monday's.  I did this because usually my weekends were a grilling fest and I had unhealthy amounts of protein and I just wanted to give my body a rest.
I have gotten out of that habit, but after sampling this recipe, I think I might just develop it once again.
This was beyond my normal yum factor.  It was so incredibly rich, I could barely finish it for dinner, but I made myself.  ::giggle::
Pair this with a simple salad with Lazy Caesar Dressing (recipe in Good Food Hunting), and you got yourself a full meal that will beat anything you might consider comfort food.
This refrigerates and then heats well.  So perfect to make for dinner, and then take one the next day to work.
Enjoy!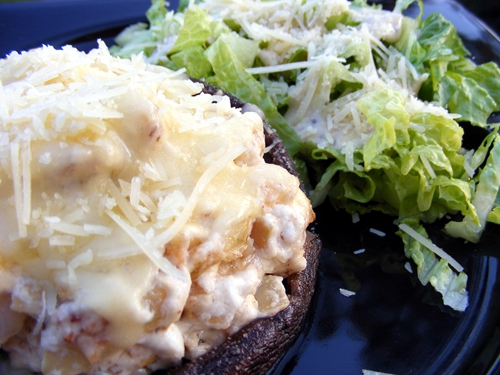 Bacon and Cheese Stuffed Portobello Mushrooms
2 servings
15 minutes prep
35 minutes start to finish
2 large portobella mushrooms, cleaned and stems/gills removed
2 tbsp olive oil
1/2 sweet onion, chopped
4 oz cream cheese
4 slices bacon, chopped and cooked lightly, drained
1/3 cup mozzarella cheese
1 tbsp Parmesan cheese
salt and pepper
Preheat oven to 400 degrees.
Place mushrooms cap down in a oven safe pan and drizzle 1 tbsp of olive oil over them.  Roast in the oven for 12 minutes.
While they are roasting, in a skillet over medium heat add 1 tbsp of olive oil.  Add onions cook until they start to brown, about 5 minutes.
Add the bacon and cook for an additional 2 minutes.  Remove from heat and stir in the cream cheese.
Take the mushrooms out of the oven salt and pepper them, then turn them over and salt and pepper them again.  Spread the mixture onto the mushrooms.  Distribute the Parmesan cheese over each mushroom.  Distribute the Mozzarella Cheese on each mushroom.  Place back into the oven for 5 minutes.
Enjoy!
Entire Recipe:
988 Calories
90g Fat (81% calories from fat)
31g Protein
17g Carbohydrate; 4g Dietary Fiber
184mg Cholesterol; 1001mg Sodium; 1186mg Potassium
Per Serving:
494 Calories
45g Fat (81% calories from fat)
16g Protein
9g Carbohydrate; 2g Dietary Fiber
92mg Cholesterol; 500mg Sodium; 593mg Potassium
Serving Idea:  This is a very rich meal.  It doesn't need much in addition, just a simple veggie.  I chose something cold to balance the flavors and textures out.  It was a match made in heaven!
Note:  Calories are based on mushrooms weighing 100 grams each.  Please weigh yours and adjust calories accordingly.