This recipe is officially in the Good Food Hunting eBook.  I don't mind sharing it here as this recipe is a pretty basic recipe that can be found anywhere on the internet when looking for something that is low carb friendly.  The trick however is how to make it HIGH FAT!
So, take a look at the picture.  This is usually how I turn any protein heavy meal into something that is considered higher fat.  Add avocado, oil, and sour cream!  ::giggle::
This recipe is so versatile.  You can pretty much empty your refrigerator of all older veggies just before shopping day, and the best thing is that this freezes really well.  Put individual servings in plastic wrap, then in foil and you have a quick breakfast, lunch or dinner for those times when you have absolutely NO time.
I happen to like cold food, so I can grab this right out of the fridge and eat as is.  What a great hunger reducer when you are on the run.
If you would like, add a comment to let me know what variations you have used with this recipe, I am always looking to try new things!
Enjoy!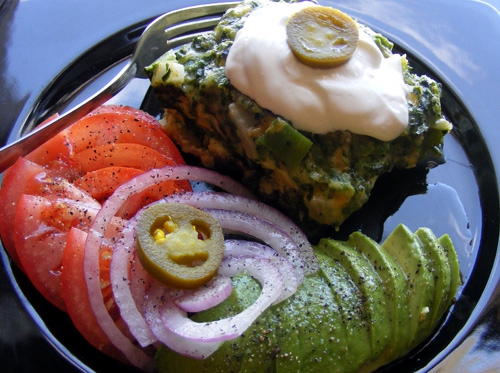 Basic Quiche
8 servings
30 minutes prep
60 minutes start to finish
1 lb bacon, chopped raw
1 large onion, chopped
2 tbsp butter, divided
1 tbsp olive oil
10 oz frozen spinach, thawed and drained
6 oz swiss cheese, shredded
6 eggs
1/2 cup half and half (no carrageenan)
salt
pepper
Preheat oven to 350 degrees.  Place chopped bacon on a foil lined pan sprayed with oil and cook until crisp (around 20-30 minutes), drain.
While the bacon is cooking, chop the onion and shred the cheese.
In a stove top pan, heat 1 tbsp butter and oil over medium heat.  Add the onion and stir.  When the onion is translucent, add the thawed spinach and stir to mix.  Let heat for about 5 minutes then remove from heat and let cool.
Stir together eggs, salt, pepper & half and half in a medium bowl.
Add in cheese, onion/spinach mixture, and bacon. Stir thoroughly to mix.
Spray oil a glass pie plate or quiche dish, pour mix in, and pat evenly with a fork.
Bake in oven 25-30 minutes, or until a knife inserted in the center comes out clean.
Let rest 5 minutes before cutting & serving.
Entire Recipe:
2264 Calories
176g Fat (71% calories from fat)
128g Protein
40g Carbohydrate; 8g Dietary Fiber
1976mg Cholesterol; 2296mg Sodium; 1976mg Potassium
Per Serving:
283 Calories
22g Fat (71% calories from fat)
16g Protein
5g Carbohydrate; 1g Dietary Fiber
247mg Cholesterol; 287mg Sodium; 247mg Potassium
Serving Idea:  This works wonders as an all-in-one breakfast, add a dollop of sour cream and some slice avocado, and you have a feast!
Note:  Please make sure you enter the counts from your specific brand of bacon.