Yum, pumpkin.
You know, I never know whether or not to treat pumpkin as a P3 or a P4 food. It works for some as a P3 food and for others as a P4 food. So I leave the decision up to you.
This is a really nice variety of flavors, and perfect for cold nights. It's purposely been padded with a little extra fat in the form of butter, so adjust to taste.  Most awesome with a cold sweet dressing salad, then you have a whole variety of flavors your taste buds will thank you for!
Enjoy!
Thanks goes to Linda for tweaking this beauty with additions that made it a perfect high fat food!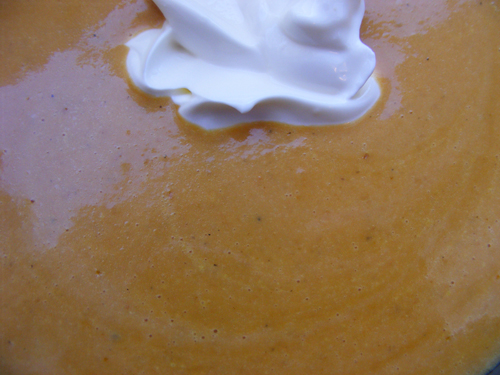 Pumpkin Curry Soup ala Linda
4 servings
15 minutes prep
45 minutes start to finish
8 tbsp butter
1 small sweet onion (diced)
1 clove garlic, minced
1 tsp curry powder
1/2 tsp salt
1/8 tsp ground coriander (can sub cumin)
1/8 tsp crushed red pepper
3 cups homemade chicken broth
1 (15-ounce) can LIBBY'S® 100% Pure Pumpkin, (1 3/4 cups)
1 cup half and half (may use HWC if carrageenan free and you want more fat!)
Melt butter in large saucepan over medium-high heat. Add onion and garlic; cook for 3 to 5 minutes or until tender. Stir in curry powder, salt, coriander and crushed red pepper; cook for 1 minute. Add chicken broth; bring to a boil. Reduce heat to low; cook, stirring occasionally, for 15 to 20 minutes to develop flavors. Stir in pumpkin and half-and-half; cook for 5 minutes or until heated through.
Transfer mixture to food processor or blender (in batches, if necessary); cover. Blend until creamy. Using an immersion blender works fantastically well.
Serve warm or reheat to desired temperature. Garnish with dollop of sour cream and chives.
Entire Recipe:
1442 Calories
126g Fat (76% calories from fat)
29g Protein
59g Carbohydrate; 15g Dietary Fiber
338mg Cholesterol; 4417mg Sodium; 2059mg Potassium
Per Serving:
361 Calories
31g Fat (76% calories from fat)
7g Protein
15g Carbohydrate; 4g Dietary Fiber
84mg Cholesterol; 1104mg Sodium; 515mg Potassium
Serving Idea:  Nothing is every wrong with pumping it up up a notch using sour cream!  ::giggle::
Note:  Soup may be prepared the day ahead. Cool to room temperature after adding pumpkin and half-and-half. Cover and refrigerate. Just before serving, blend then reheat to serving temperature, but do not boil.