Spinach is so utterly versatile, don't you think?
You can do so many things with it, but I gotta tell you that Spinach Balls are something I have missed for what seems like decades.  They are utterly delish, and I could never ever contain myself around them.  Little did I know back then it was because of the wheat!
So, I was experimenting with nut flours the other day, and I don't know what made me think about it, but I thought to myself, would a nut flour work for spinach balls instead of that herbed dressing that shall remain nameless.  So I experimented.
More than once.  ::giggle::
These are SO CLOSE to the original.  The only draw back I can say is that they are a tad dry.  Play around a bit with adding more oils to the mixture in the form of butter, or maybe even coconut oil.  I just decided to make a dill/cucumber/sour cream dip instead, and it was the perfect accompaniment.
Enjoy!
So sorry about the picture, I have not figured out how to photograph white food with my camera, ugh. Believe me when I say, it was nummy.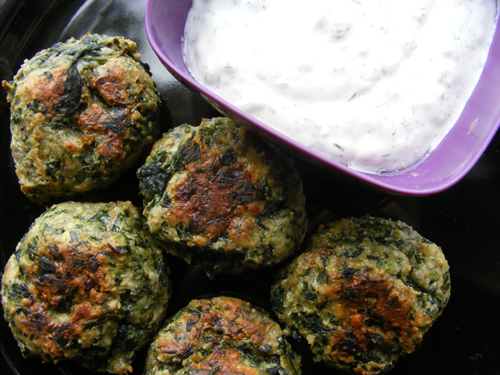 Spinach Balls – Gluten Free
2 servings (makes around 16 balls)
15 minutes prep
2 hours 45 minutes start to finish (includes time to set)
1 10oz package of frozen chopped spinach, thawed, drained and squeezed dry
1 small onion, diced
1 cup nut flour/meal*
1 tsp oregano
1 tsp basil
1/2 tsp salt
1/2 tsp garlic powder
1/2 tsp black pepper
4 tbsp grated Parmesan cheese
2 tbsp softened butter
2 eggs
Mix spinach, onions, and dry ingredients together. Then add melted butter and eggs, mix until well blended. The result should be a moist but able to make a round ball of "dough".
Roll balls about 1.5″ (about the size of walnuts), and place on ungreased, non-stick cookie sheet (I use parchment paper). Place in fridge for 2 hours to set up. Preheat oven to 350 F, and bake for about 20 minutes.
Best if you turn half way during cooking time.
*This measurement is going to depend on the kind of nut you use.  Please measure the flour and not the raw nuts for the recipe.  I like using raw sunflower seeds for this recipe, and for me to make 1 cup of flour, I have to use 125 grams of raw sunflower seeds.  The calorie count for this recipe is based on that count.
Entire Recipe:
1322 Calories
103g Fat (66% calories from fat)
65g Protein
56g Carbohydrate; 30g Dietary Fiber
502mg Cholesterol; 2158mg Sodium; 2772mg Potassium
Per Serving:
661 Calories
51g Fat (66% calories from fat)
32g Protein
28g Carbohydrate; 15g Dietary Fiber
251mg Cholesterol; 1079mg Sodium; 1386mg Potassium
Serving Idea:  To make these more high fat, dip them in a sour cream and dill dip!  YUMMY!
Note:  According to one commenter, these freeze well.  Perfect, what a great go to snack!