Yeah, I am on a pumpkin kick, for sure.
Just shoot me already.
::giggle::
I am finding more and more things to make with pumpkin, so you will just have to put up with it.  Last year there was a pumpkin shortage so I definitely did not get my fill.  I am making up for lost time.
This dish is SPICY, so it's perfect for cool fall evenings … warming the inside as well as warming the outside.
I used zoodles, but you can actually use almost anything.  Quite frankly, I made this, took one serving to take the picture, then I ate the rest of it as a thick soup for dinner.  ::giggle::
Enjoy!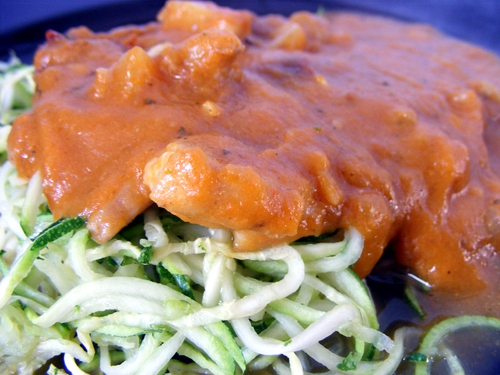 Pumpkin Chipotle Sauce
4 servings
15 minutes prep
25 minutes start to finish
1 tbsp butter
1/2 small sweet onion, minced
3 cloves garlic, minced
1 cup chicken broth (watch for MSG!)
1 cup pumpkin puree
2 chipotle peppers in adobo sauce, chopped (or to taste)
1/3 cup half and half
1 tsp ground sage
3/4 tsp sea salt
1/4 tsp cumin
1 pinch each of cinnamon and nutmeg
1 medium zucchini, shredded like noodles
Shred zucchini to make zoodles and let drain on paper towels while you are cooking the sauce.
Melt butter in a saucepan over medium heat.  Add onion and garlic and gook until onions are translucent, about 3 minutes.
Add chicken broth, bring to boil.  Add pumpkin, chipotle peppers, milk and seasonings and allow to come to a simmer.  Simmer for about 10 minutes for flavors to meld.
Serve over zoodles.
Entire Recipe:
398 Calories
24g Fat (49% calories from fat)
16g Protein
39g Carbohydrate; 13g Dietary Fiber
63mg Cholesterol; 2525mg Sodium; 1445mg Potassium
Per Serving:
100 Calories
6g Fat (49% calories from fat)
4g Protein
10g Carbohydrate; 3g Dietary Fiber
16mg Cholesterol; 631mg Sodium; 361mg Potassium
Serving Idea:  This sauce is good over any sort of veggies, but I prefer the zoodles.  If you are in P4 you can serve this over rice, yummy!
Note:  2 peppers make this pretty spicy, please adjust to your liking.