Posted this recipe on my Facebook page the other day, promising to post it that day and I never did, sorry about that.
These are yummy, just like the title says.  I made them with strawberries, but you can make them with any berry and it still be good.
Enjoy!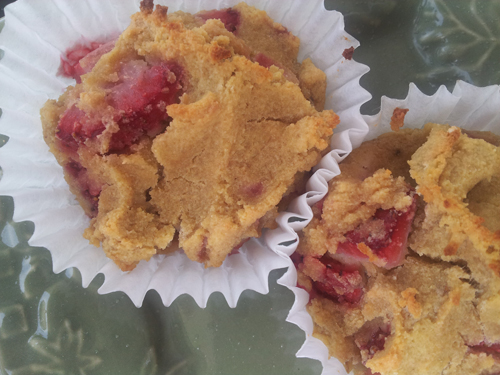 Yummy Berry Muffins (Dairy and Gluten Free)
6 servings
40 minutes start to finish
1 ripe bananas, mashed
2 eggs
1/2 tsp vanilla
1/2 tbsp honey
1/4 cup coconut flour
1/8 tsp sea salt
1/8 tsp baking soda
1/8 tsp baking powder
2 tbsp coconut oil, melted
2 oz berries of any sort (small bite size pieces)
Preheat oven to 350.
Line a muffin pan with some sort of liners.
Place bananas, eggs, vanilla and honey in some sort of mixer (I use my Magic Bullet) and blend thoroughly.
In a bowl, place coconut flour, salt, baking powder and baking soda and stir well.
Add the wet mixture to the dry slowly, mixing well.
Add the coconut oil next. Adding it at this point will keep it from getting hard from the cold ingredients.
Now is the time to add the berries. Be careful not to allow the berries to get too crushed and change the color of the batter.
Fill the cups a bit more than 3/4 of the way full. Bake for 30 minutes (or until a knife comes out clean). Let cool for about 15 minutes in the pan. Remove and place on a wire rack to finish cooling.
Even though this recipe is dairy free, this was most nummy with butter. Next time I will try it with coconut butter. Cause you just know ANYTHING with coconut butter is good. ::giggle::
Entire Recipe:
786 Calories
44g Fat (49% calories from fat)
22g Protein
82g Carbohydrate; 28g Dietary Fiber
424mg Cholesterol; 595mg Sodium; 695mg Potassium
Per Serving:
131 Calories
7g Fat (49% calories from fat)
4g Protein
14g Carbohydrate; 5g Dietary Fiber
71mg Cholesterol; 99mg Sodium; 116mg Potassium
Serving Idea:  Breakfast all the way!  ::giggle::  But seriously, these are great with a cup of coffee or tea.  Great to take along to a company snack day and still feel fulfilled. 

Note:  The recipe was calculated using strawberries, please re-calculate using your own berry preference.