During my morning Facebook perusing, this was on my timeline*.  I love stuff that makes me think. And this was one of those things.
For those of you not wanting to make the trip over to FB, let me share what I am talking about. It was 10 things you can do to recharge.  The list was interesting, it included gems like:
No emailing after work hours
Read in the tub
Take a real lunch break
Laugh… more
The list continued comprising 10 things this person considered vital for her personal recharging.
The list is great!  However, for me, there are some I wouldn't consider beneficial.  For instance, all my reading is done on my iPad and I don't want to take my iPad into my bath.  ::giggle::
You get the picture.
Using this concept as my muse, I decided to write my own 10 things I need to "recharge" list.
However, the word "recharge" doesn't resonate with me.
I thought and thought and I like "Restore" much better.  Even looked up the definition to make sure it works (you knew I would right?), the World English Dictionary defines it as:
vb – to bring back to health, good spirits, etc
I like that definition, so that is the one I choose to use.
So many times throughout our weight control journey, we don't take time to stop and smell the coffee.  HA!  You thought I was going to say roses, didn't you?  I like the smell of coffee much better than roses.  In fact, I don't like roses much at all.
I digress.
On point …
… We lead such busy lives; we seldom take time to really enjoy life; even if it's for a moment.  A moment where we are not worried about what we are going to eat, or how to record the data, or what did our friend mean when they said such and such, or the family drama that is taking place leaving us in a distressed state.
I sometimes ask my clients to take a "chill pill" and to do something that brings them back to center.
I have generated my own restoring center list helping me quickly accomplish that task.
Could you create your own 10 item list?
Call it your personal "restore yourself" list and let it help you revitalize good spirits.
Sometimes, all it takes is just a 15 minute time span forgetting the world, getting you back into a good place where you can make good choices again.
I did – here is my list: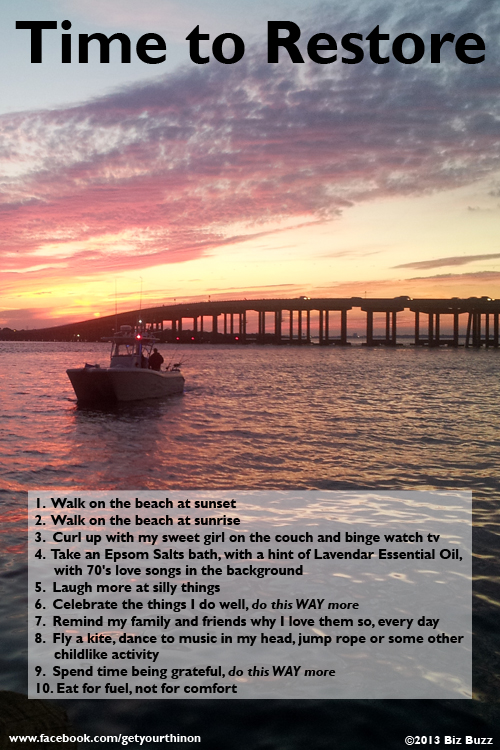 Help me out. What is one thing you could do to restore yourself?  Please share in the comments below.  Extra credit if you give me your own personal top ten!  ::giggle::
---
*Thank you Lisa Larter for sharing the photo on Facebook , and this article's catalyst.