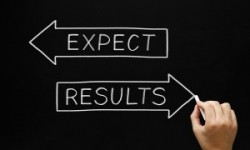 High achievement always takes place in the framework of high expectation. ~ Charles F. Kettering
In the personal development world, it is a given our expectations play a significant role in the outcomes we manifest in our lives.
The Law of Expectation contends whatever you expect with confidence, whether this is positive or negative, becomes your reality.
In other words, your thoughts create the reality you live in.
When embarking on a new adventure, do you sit and contemplate what might happen or be the end result?
Imagine you are planning a trip to Disney World. Do you spend time thinking about how you're going […]