It's officially fall, and what better way to celebrate it than with a nice warm soup for those cold evenings?
I have to ultimate favorite soups in the world, clam chowder (is that even a soup?) and potato.  Well, if you are trying to be a low-starcher, then potato is pretty much out.  So the next best thing?  A thick Broccoli and Cheese soup.  It's very close to being the comfort food that potato soup is.
This recipe is fast and easy, and it is usually something I can make with ingredients I always have on hand.
If you ask me, the toppings are what I consider the best part of the meal.  The picture I took is a little misleading as when I make it, I put a TON of green onions on it!  ::giggle::
Enjoy!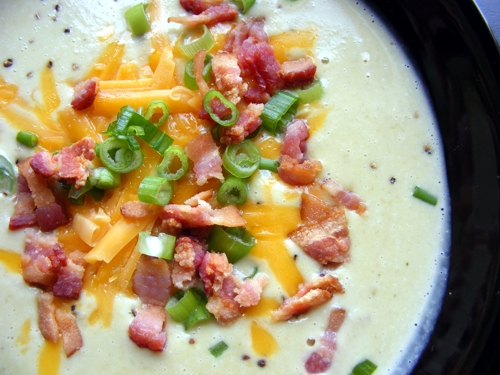 Broccoli Cheese Soup
4 servings (approximately 2 cup servings)
15 minutes prep
25 minutes start to finish
2 tbsp butter
3 cups chicken stock
8 oz cream cheese
1 cup heavy cream (no carrageenan and not ultra-pasteurized)
8 oz shredded cheddar cheese (shred yourself)
1 lb frozen broccoli florets
Pepper to taste
Boil the broccoli florets in the chicken stock until broccoli is tender.
In a separate pot, heat the cream cheese, heavy cream, shredded cheese and butter.  Stir often.  Add half of the tender cooked broccoli to this mixture and mix with immulsion blender until relatively smooth.  If you don't have an immulsion blender, take half of the tender cooked broccoli and blend until a puree, and then add to the creamy mixture and stir.
Finally, add the rest of the broccoli and stock and stir.
Garnish with your choice of toppings:  cheese, green onions, or bacon.
Enjoy!
Entire Recipe:
2805 Calories
255g Fat (80% calories from fat)
96g Protein
48g Carbohydrate; 14g Dietary Fiber
820mg Cholesterol; 4959mg Sodium; 1891mg Potassium
Per Serving:
701 Calories
64g Fat (XX% calories from fat)
24g Protein
12g Carbohydrate; 3g Dietary Fiber
205mg Cholesterol; 1240mg Sodium; 473mg Potassium
Serving Idea:  This is a meal in itself.  It is loaded with sodium however, so I recommend eating it early in the day instead of at dinner and making sure you have extra potassium in the day.
Note:  If you can't find heavy whipping cream that isn't ultra-pasteurized or that doesn't have carrageenan, then use half and half, and reduce your chicken stock to just 2 cups because the half and half is not as thick.