I am going to start this recipe off with a warning.
THESE ARE ADDICTING
That is all.  ::giggle::
But seriously.
If you are going to make these for P2, keep in mind that if you choose to eat the entire recipe, it will take up 1/3 of your allowed calories using The Biz Buzz Method (The First Step).  But oh my goodness, is it worth it!
There are two tricks with this particular recipe.
One is to make sure each and every piece is small (like the piece on the right of the picture) – the smaller they are, the more crunchy it gets, and then it's like nothing you have ever tried.  Imagine something more savory than popcorn.  And a kick from the garlic that is just awesome.
Two is to really listen to the direction that says: do not rinse before making this dish.
Ok, confession time.
I did.  I had completely forgotten to wash the broccoli when I got it home, so I thought, well, it can't make that much of a difference.  Trust me, it does.  So, although it was tasty when I removed it from the oven, it didn't have that crunch that I was looking for.
I proceeded to put it back in the oven, this time at 200 degrees for about 45 minutes to dry it out, and this time?  I couldn't stop myself from enjoying each tasty morsel.
Yeah, it was that good!
Enjoy!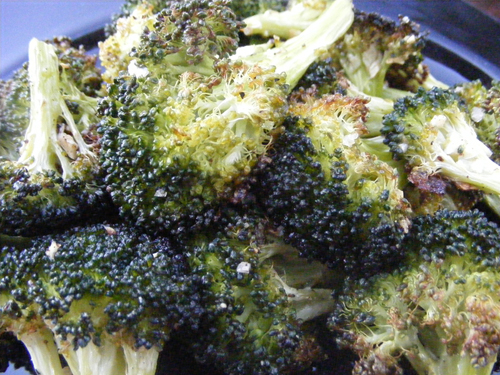 Broccoli Crunch
4 servings
10 minutes prep
40 minutes start to finish
1 head of fresh broccoli, largely chopped (about 8 oz), do not rinse before making this dish, must be compltely dry
3 cloves garlic, minced
2 tbsp olive oil
sea salt and pepper to taste
Preheat oven to 375°
In a large Ziploc bag, place broccoli, garlic, olive oil and S&P and shake it up until well coated.
Spread out on a baking sheet (on parchment paper makes for easy cleanup) and place on top rack.  Bake for about 30 minutes.
Broccoli will be crunchy and delish!
Enjoy
Entire Recipe:
277 Calories
27g Fat (85% calories from fat)
3g Protein
8g Carbohydrate; 3g Dietary Fiber
0mg Cholesterol; 25mg Sodium; 322mg Potassium
Per Serving:
69 Calories
7g Fat (85% calories from fat)
1g Protein
2g Carbohydrate; 1g Dietary Fiber
0mg Cholesterol; 6mg Sodium; 81mg Potassium
Serving Idea:  The toppings could be endless.  I can think of adding Parmesan cheese, or maybe lemon pepper instead of black pepper, OH MY!  Or how about a dip of mayo and horseradish or curry?  YUM!!!
Note:  MUST be dry!