Roasted veggies … yum.
What is it about roasted veggies that make them so delectable?  Everyone probably already has their favorite way to roast veggies, so why bring another recipe into the mix?
Well, we have a niche here with the hCG Protocol.  Most people consider the diet to be boring, and I am here to tell you that this just isn't true.  There is so much you can do to kick food up several notches so that P2 can be exciting and delicious.  Far from boring.
Roasting your veggies is a great way to bring out the sweet that is trapped inside those powerhouses of nutrition.
I have to be honest with you … I roast a lot of veggies, however, I had never considered roasting cabbage before, and I gotta tell you, it's worth every minute, and oh so easy!
When I  made it, I had it with a baby meatloaf (recipe found in The First Step) and it was the perfect meal.  And filling!
Enjoy!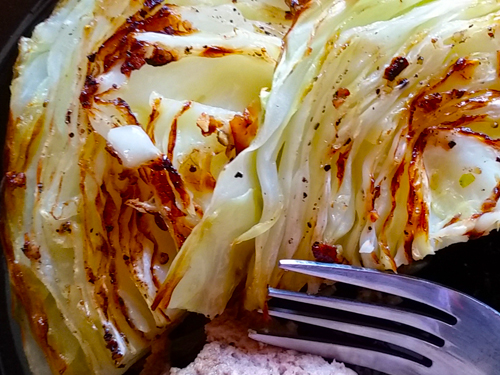 Roasted Cabbage
8 servings
10 minutes prep
1 hour, 10 minutes start to finish
1 (approx 2lb) head of green cabbage
1 1/2 tablespoons olive oil
2 to 3 large garlic cloves, minced
kosher salt, to taste
freshly ground black pepper
Preheat oven to 400°F and layer cookie sheet with parchment paper.
Pull outer leaves off cabbage (they are usually tough).  Beginning from the top (bottom being root), slice the cabbage into 1/2 to 1-inch thick slices to bottom.
Mix the oil and garlic and with a pastry brush, rub both sides of cabbage with the mixture.  Sprinkle each side with a bit of kosher salt and freshly cracked black pepper.
Roast on the middle rack for 15 minutes. Carefully flip the cabbage steaks and roast for an additional 15 minutes until edges are brown and crispy. Serve hot and Enjoy!
Entire Recipe:
415 Calories
23g Fat (44% calories from fat)
13g Protein
51g Carbohydrate; 21g Dietary Fiber
0g Cholesterol; 164mg Sodium; 2258g Potassium
Per Serving
52 Calories
3g Fat (44% calories from fat)
2g Protein
6g Carbohydrate; 3g Dietary Fiber
0g Cholesterol; 21mg Sodium; 282g Potassium
Serving Idea:
Note: