A visit to Hawaii is not complete unless you have a meal of Kalua Pork.
Kalua literally means to cook in an underground oven.
The Hawaiians loved cooking in the ground … they would build a fire using kiawe (mesquite) wood in a dirt pit called an imu.  This pit was usually about 6 feet long, 4 feet wide and 3 feet deep.  The pit would be lined with rocks and vegetation, then the meat would be salted and placed on that, then more rocks and vegetation and then covered with wet burlap and then sand/soil.  Then you left it alone and went about your business.
What you came back to later in the day was meat that was ready to be shredded and eaten … succulent from drawing on the tastes of the vegetation it was packed with and the aromas of the wood and rocks.
We don't have time today to cook like that, thank goodness for slow cookers!  This recipe is easy peasy lemon squeezy!  Pack it and forget it, just like the Hawaiians!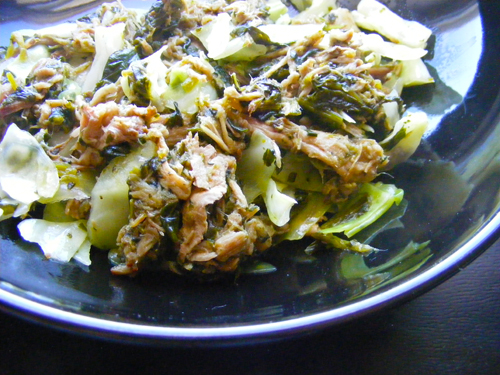 Kalua Pork and Cabbage
24 servings
10 minutes prep
20 plus hours start to finish (depends on how fast the pork cooks enough to shred)
6 pound Boston Butt Pork Roast
1 1/2 tablespoons Hawaiian Sea Salt (Celtic or Himalayan will do)
1 tablespoon liquid smoke
1 pound frozen chopped spinach, thawed and drained
1/2 head of green cabbage, chopped in bite size pieces
Pierce pork all over with a carving fork. Rub salt then liquid smoke over meat. Place roast in a slow cooker.
Cover, and cook on low for 16-20 hours (see note below), turning once during cooking time.
Remove meat from slow cooker and shred.  Chill the drippings and remove top layer of fat.
Add drippings back to the shredded pork, add spinach and cabbage, put on high and let cook 2-4 hours on low.
Entire Recipe:
4155 Calories
257g Fat (57% calories from fat)
420g Protein
21g Carbohydrate; 15g Dietary Fiber
1351mg Cholesterol; 10064mg Sodium; 8268mg Potassium
Per Serving:
173 Calories
11g Fat (57% calories from fat)
17g Protein
1g Carbohydrate; 1g Dietary Fiber
56mg Cholesterol; 419mg Sodium; 345mg Potassium
Serving Idea:
Note: Please note that crock pots cook differently and you might need to adjust the cook time.  It might help to dilute the smoke with a bit of water so that it is easier to uniformly cover the entire surface of meat.