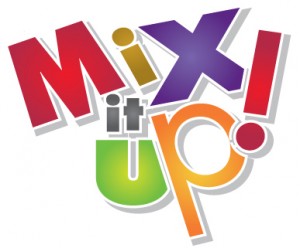 Over the last few weeks, I have been teasing my readers of The Biz Buzz of a Guinea Pig Program that I was going to start asking for people to participate in.  It's time for me to let you know a little bit more about this experiment.
First of all, I am renaming it to The Mix It Up Experiment, and after you read this, you will understand why.
I have been receiving more than a few emails wanting to find out more; even some saying sign me up when they don't know the first thing about it yet!  ::giggle::
I have to admit, most of the ones wanting to join in are from people who already know me and my ways.  They know I research a ton; they know I put my whole heart and soul into finding out new information; or taking old information and combining it to make something new.
This experiment comes from combining lots of information already out there into a unique way of eating.
Let me give you some background on how I devised this experimental way of eating.
One of my principal precepts is ANY diet will work, as long as you follow the rules.  I know I am not the only one who has lost weight on Atkins, South Beach, Pritikin, Zone, or insert whatever diet you have tried and lost weight.  They all work.  Why?
I believe the reason is twofold … First –  it works because once a particular diet is started your eating style is vastly changed from your previous way.  That makes the body wake up and take notice.  It makes the body (metabolism) work harder, and with a heightened metabolism and the right foods, signals the body towards a healthy weight.
The second reason is more often than not, one of the macros (carbs, fats or proteins) is low and the other two high.  Again, this puts the body in a state of confusion.  A body in a confused state stays revved up and is what a body needs to function optimally. To reduce weight, there has to be an imbalance. For maintenance, the macros should be about even.
I thought to myself, why not create a regular occurring imbalance keeping the body confused?  In doing so, make the body work harder, increase the metabolism, feed it good healthy real foods, and let it find its way to a healthy weight.
One of my other precepts is grazing (eating every two to four hours).  It is an excellent way to rev the metabolism.  Plus it keeps hunger at bay.  My working theory was – If you could combine grazing with confusing the body by offering it different macro settings and throw in a little food combining rules; the result would be a healthy eating plan using real foods which help the body find its optimal healthy and happy weight.
Like anything else, this program has rules.  If you are interested and can commit to the rules, you are a good candidate for the program.
Rules
The No No's include:  No alcohol, sugar or artificial sweeteners (pure liquid stevia allowed), corn, wheat, dairy, soy, caffeine, or any "diet" processed foods.
No calorie counting. It is encouraged, however, not required.  The diet's focus isn't about counting calories!
The Yes Yes's:  Eat at least 5 times a day, with the first meal/snack being within 30 minutes of waking and then each 2-4 hours after that.
Some grains are allowed, in fact are necessary to sustain the confused body state.  Some allowable grains include: wild rice, steel cut oats and quinoa.
Data is a required portion of this experiment data. Your commitment to daily check ins and reports are imperative (a private forum will be available for this use).
Weekly weigh in weights recorded every Monday. You may weigh daily if frequent weight fluctuations will not derail your motivation or commitment.
Average losses are between 1.5-2 pounds a week – if the rules are exactly adhered to every single day.  This is not guaranteed, however, preliminary findings indicate this is average.
Your time commitment is four weeks.  This experimental four week period was carefully chosen with no holiday periods involved.  I will be available to assist you through any social situation.
I need clean data. Stick to the plan as formulated. If there are any questions, concerns, life situations, or suggestions, please ask me first before attempting any deviations.  Together, we can make anything work.
Start date is September 15, 2014 (forum will open on September 3rd to give enough time to prepare).
There is nothing on this plan that is out of the ordinary.  Nothing processed.  Just real foods.
Now the technical stuff.  As you can imagine, this has taken a lot of work, I can't do this for free.  I shared this plan with a few clients in a beta test group. The next step is to expand the experiment's test group in order to observe a more rounded view of possible outcomes. I can only accept 25 people into this expanded experimental study group.
I will be providing:
A private space to post your daily stats.
A list of the rules for each day of the plan (it's per week in 3 stages, rinse, repeat).
Charts and forms to help your menu creation and data tracking discovering what works best for your body.
Support from me (your personal coach) through a 5-days a week forum (member helping member on Saturdays and Sundays) during the entire duration of the experiment (plus the period of prep work before).
As an optional bonus for those wishing to take advantage, I will provide Skype Online Text Chat three days a week 6-8 AM Central Time Zone.  Must have a Skype account to participate.
For about the cost of a trip to get a pedicure, you can have the above for just $39.95 for the four weeks – $49.95 if interested in the Skype bonus.
If this is something you are interested in, please sign up here to get on the list.  If you are already a Bod Squad client, just reply to your daily email and tell me you are interested in this experiment.  If the rest of you have any questions, feel free to contact me using this form.