I know, I know.
It's officially fall and I should be concentrating on fall recipes.  However, it is also foot ball season and we love to grill, don't we?  Hamburgers are always perfect for grilling, but who wants to just keep eating burgers without a bun?
Enter the Oopsie Roll!  That is a name made famous by a low carber from WAY back.  In reality, these rolls were developed by none other than the low carb king, Dr. Atkins himself, except he called them "Revolution Rolls".  I spent a few minutes before I wrote this post to find the original recipe, but alas, I can't find it anywhere online.  If you find it, could you post it here in the comment section for me?
The recipe is in the original Dr. Atkins Diet Revolution book, of which my copy is in storage!  🙁
In any case, these are awesome to make at least once a week for those times you need a quick something to munch on when you are on the go.
Just a hint.  These do tend to get pretty soggy pretty quit.  What I do to alleviate the issue is to put a leaf of lettuce right next to each slice of the Rev Roll and then all the fixings go in between them, including the condiments.
This recipe can be found in the Good Food Hunting eBook.  I don't have an issue posting it here cause some version of this recipe is found all over the internet.  Also, I am only posting the recipe for the roll itself and not the fixings.  As you can imagine, there are tons of variations on how to cook a hamburger, or what fixings you can have on it.  The only constant would be the roll itself.
I will say this, making Rev Rolls is an art.  I can almost guarantee that the first time you make them, it will not be your finest hour.  Don't give up.  Try and try again until you get it right, and when you do, they are indispensable as a bread substitute.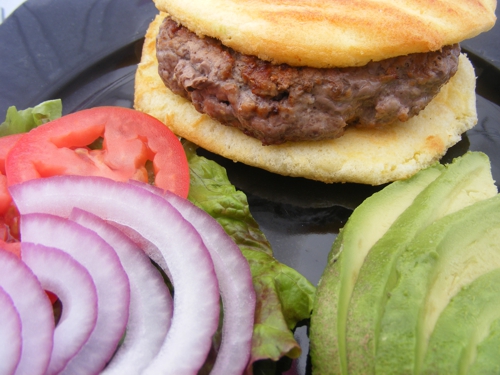 Oopsie Rolls (Gluten-Free Buns)
3 servings (makes 6 slices)
10 minutes prep
45 minutes start to finish
3 large eggs, separated
1/8 tsp cream of tartar
3 oz cream cheese (do not soften)
Preheat oven to 300 degrees F.
Separate the eggs and add cream cheese to the yolks.  Use a mixer to combine the ingredients together.
In a separate bowl, whip egg whites and cream of tartar until stiff (if you're using the same mixer, mix the whites first and then the yolk mixture).
Using a spatula, gradually fold the egg yolk mixture into the white mixture, being careful not to break down the whites.
Spray a cookie sheet with non-stick spray and spoon the mixture onto the sheet, making 6 mounds.  Flatten each mound slightly.  Alternatively, you can use non-stick foil.
Bake about 30 minutes (should be slightly soft, not crumbly).  Let cool on the sheet for a few minutes, and then remove to a rack and allow them to cool.  Store in a loosely open sack and allow to rest on the counter before use.
Entire Recipe:
522 Calories
45g Fat (76% calories from fat)
24g Protein
3g Carbohydrate; 0g Dietary Fiber
732mg Cholesterol; 441mg Sodium; 348mg Potassium
Per Serving:
174 Calories
15g Fat (76% calories from fat)
8g Protein
1g Carbohydrate; 0g Dietary Fiber
244mg Cholesterol; 147mg Sodium; 116mg Potassium
Serving Idea:  If you are making these to be savory (for burgers) you can add dry mustard and dill or other seasonings to the yolk mixture.  If you want a more sweet roll, add a very small amount of Splenda to the yolk mixture.
Note: