Gotta be honest, pancakes and I don't get along so well. I am not talking about weight wise, but rather, I just really don't like them. I have to remember however that it's not always just about me!  ::giggle::
I went searching for a recipe that I could convert to HIGH FAT that would help those out there that miss this sort of breakfast.  This seemed to fit the bill.
I am not crazy about flax.  There is a certain texture to it that just doesn't jive with me, and I think the next time I make this I will make it with just straight coconut flour.  I am finding that the more and more I use coconut flour, it's a great sub for regular flour, and it doesn't add a taste like I thought it would.
With this recipe, I used blueberries to top it for a syrup.  You can use almost any fruit.  Peaches, strawberries, even kiwi's.  If you did add kiwi's, it would be an awesome way to add potassium.
Enjoy!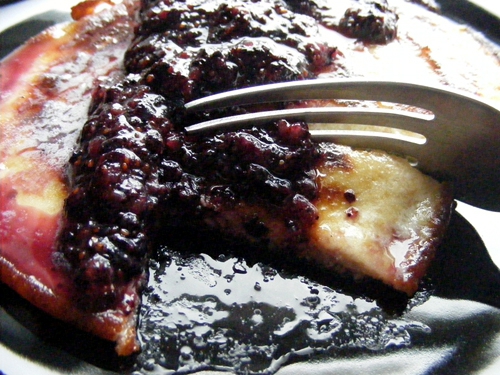 Ricotta Flax Pancakes with Blueberries
4 servings
10 minutes prep
25 minutes start to finish
Pancakes:
4 eggs
1 cup Ricotta cheese
1/2 tsp vanilla
1/3 ground flax
1 tablespoon olive oil
1 tbsp sugar
1 tbsp coconut oil (for frying)
Syrup:
1 cup blueberries, partially frozen
1 tbsp sugar
In a bowl, place blueberries and sugar and mash together with a fork.  Let set while cooking the pancakes.
In another bowl, beat eggs. Add ricotta, vanilla, flax, oil and sugar. Mix well. Melt coconut oil in a pan.  Using a 1/4 cup scoop, scoop batter into the hot frying pan. Cook until brown on the bottom. Flip, and cook through.
Top with blueberry mixture.
Entire Recipe:
1399 Calories
97g Fat (62% calories from fat)
64g Protein
73g Carbohydrate; 18g Dietary Fiber
972mg Cholesterol; 513mg Sodium; 1007mg Potassium
Per Serving:
350 Calories
24g Fat (62% calories from fat)
16g Protein
18g Carbohydrate; 5g Dietary Fiber
243mg Cholesterol; 128mg Sodium; 252mg Potassium
Serving Idea:  Serve with butter!  YUM!!!  You could make any fruit topping you wish.  Peaches and strawberries both work well.  Just let the sugar do it's thing to bring out the syrup of the fruit first.
Note:  I encourage using cane sugar for all P4 recipes.