Earlier this week I was caught without groceries, don't you hate when that happens?  You have to get creative, especially when you don't like grocery shopping as it stands.  HA!
These were really delish, and I have to say I prefer them cold as an appetizer rather than a meal (which is how I ate them!) – so this would be a great dish to take to a gathering.
The recipe calls for using frozen chopped spinach, but I had a bag of spinach that needed to be used up, so I chopped that up instead.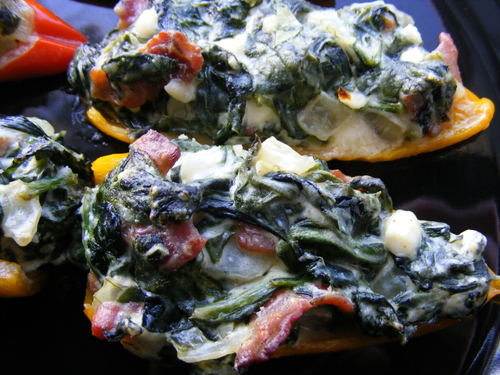 Mini Peppers Stuffed with Feta and Bacon
8 servings
20 minutes prep
60 minutes start to finish
24 (or more) mini peppers (24 oz bag), halved and cored
3 tbsp olive oil
8 slices of bacon, cooked and cooled and then crumbled
1 small sweet onion, chopped
10 oz frozen chopped spinach, thawed and squeezed dry
4 oz crumbled feta cheese
4 oz cream cheese, room temperature
Preheat oven to 375 degrees.
Drizzle 2 tbsp of the olive oil over the peppers and then arrange on a baking sheet with the cup side up.
In a medium skillet, put the oil and let warm, add onions and cook until translucent (around 5 minutes).  When done, add to a large bowl and let cool.
To the large bowl, add the bacon, spinach, feta and cream cheese (add a little crushed red pepper if you like spicy) and mix well.
Spoon about 1 tbsp of the mixture into each pepper cavity.  Bake for 20-25 minutes.
If you choose to eat them very warm, they can be a bit messy, wait till they get to room temp.  They are great cold, believe it or not!
These peppers are great for entertaining as they can be put together a day ahead of time, covered and refridgerated and then put in the oven just before you need them.
YUM!
Entire Recipe:
1605 Calories
131g Fat (71% calories from fat)
54g Protein
65g Carbohydrate; 21g Dietary Fiber
268mg Cholesterol; 2633mg Sodium; 2527mg Potassium
Per Serving:
201 Calories
16g Fat (71% calories from fat)
7g Protein
8g Carbohydrate; 3g Dietary Fiber
34mg Cholesterol; 329mg Sodium; 316mg Potassium
Serving Idea:  These are really quite the snack.  You could throw more than a few of these in a small sandwich size plastic container and feast on them all day at work.  YUM YUM
Note:  If making these for a gathering, they can be made a day ahead.  Pop them in the oven just before serving if you like them hot, or let them cool, good either way!