Sports parties.
They are all over the place come January.
You need something simple, and legal, yet delicious to take so that you don't go backwards on all the progress you made during the proceeding weeks getting all that holiday weight back off.
::giggle::
But seriously.  This stuff is good.  Very simple to make, very tasty, and if you don't make a double recipe, you are going to be very sorry because you will have nothing left for yourself.  HA!
I seriously love me some of those mini peppers, and I find the sweet crunch of the peppers blends nicely with the salty and creaminess of the dip, and the poppy seeds act like a catalyst to really round out the savory flavors.  Yum!
I chose the mini peppers, but you can choose anything to accompany this delish dip.  Word of caution though, it's a thick dip, so make sure you pick a sturdy veggie.  Celery, carrots, or cukes will all work well.
Enjoy!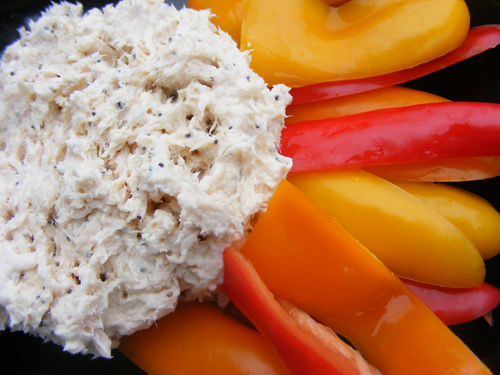 Poppy Chicken Dip
8 servings
10 minutes prep
20 minutes start to finish
4 boneless, skinless chicken breasts, cooked and shredded
1 8 oz package cream cheese
1/2 cup mayonnaise
2 teaspoons poppy seeds
1/4 teaspoon garlic powder (I happen to use Tones Garlic and Herb Seasoning)
1/4 teaspoon sea salt
Mix all ingredients together until well-combined. Chill until ready to serve.
Entire Recipe:
2746 Calories
202g Fat (66% calories from fat)
230g Protein
8g Carbohydrate; 1g Dietary Fiber
869mg Cholesterol; 2283mg Sodium; 2091mg Potassium
Per Serving:
343 Calories
25g Fat (66% calories from fat)
29g Protein
1g Carbohydrate; traceg Dietary Fiber
109mg Cholesterol; 285mg Sodium; 261mg Potassium
Serving Idea:  This will also make a wildly delish topping for a salad.  Yum.  Sprinkle some Red Hot on it and you can make it Buffalo Chicken Style!  ::giggle::
Note:  Easy way to prepare chicken is slow cook the night before.