When it's cold, what is better than a cup of soup?
Better yet, a SPICY cup of soup.
It just warms you from the inside out.
Just because you are on P2 does not mean you have to suffer with plain and bland foods.  Kick them up a notch (or two) by using spices!
Be careful however, spices do have calories, and when you are dealing with a limited amount of calories during the day, they can add up quite quickly.
Did you know that as long as the serving size listed on a label has less than five calories that the company can legally list the item as having zero calories – even if it might actually have 4?!?
Spices and seasonings most often use ¼ teaspoon as their serving size, so you really need to BE CAREFUL!!!  Do the math, if something has 4 calories in ¼ tsp then that means it has 16 calories in 1 tsp!!!
Here are some various spices and seasonings and their calorie count per TABLESPOON:
1 tbsp Onion Powder = 23 calories
1 tbsp Garlic Powder = 28 calories
1 tbsp Chili Powder = 24 calories
1 tbsp Paprika = 20 calories
1 tbsp Poultry Season = 12 calories
1 tbsp Oregano = 14 calories
Just something to remember when you are tallying  your totals for the day.
This is a quick and easy soup.  In fact, if you have your broth already made, your chicken already boiled and shredded in your allowed serving sizes, just cut up the tomatoes and garlic, throw in the spice and viola, you can have this lickity split!
Enjoy!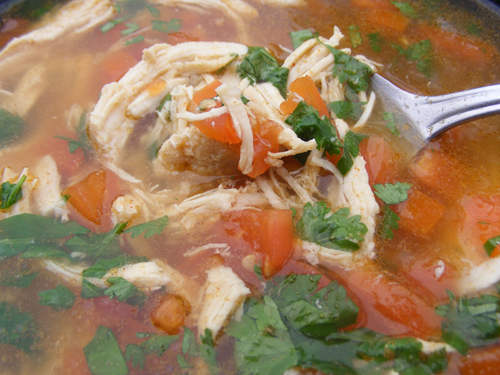 Mexican Chicken Soup
4 servings
10 minutes prep
40 minutes start to finish
1 clove garlic (minced)
1 cup diced roma tomatoes
4 cups homemade or organic chicken broth
4 tsp cumin
2 tsp onion powder
2 tsp chili powder
1 tsp cayenne (may omit)
1 lb chicken, boiled and shredded into bite-sized pieces
1/4 cup fresh chopped cilantro (optional)
In a preheated pot, place a little broth (for steam and for non-stick properties) and add garlic and simmer for about 3-5 minutes.
Add tomatoes, chicken broth, cumin, onion powder, chili powder, and cayenne. Bring to a boil.
Reduce heat to a simmer, add chicken. Simmer for 20 minutes. Stir in cilantro, and simmer for 5 minutes more.
Entire Recipe:
818 Calories
21g Fat (24% calories from fat)
126g Protein
27g Carbohydrate; 6g Dietary Fiber
277mg Cholesterol; 3392mg Sodium; 2706mg Potassium
Per Serving:
204 Calories
5g Fat (24% calories from fat)
32g Protein
7g Carbohydrate; 2g Dietary Fiber
69mg Cholesterol; 848mg Sodium; 677mg Potassium
Serving Idea:  Add a dollop of sour cream as one of your clean fats!  Better yet, chop up some avocado, yum!
Note:  Great make ahead and freeze recipe.