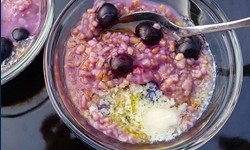 There are so many out there that have sworn off all grains … I am not part of that movement.  ::giggle::
I think there is a place for some grains, and this world has some healthy cultures for the most part, and they survive on some grains like rice and oats … so this is for those peeps that are not strictly grainless.
However, just like with anything else … there is good and there is not so much.  Whole foods are usually always good.  So that is why when I recommend oats to a client, I recommend only steel cut oats.
Steel-cut […]