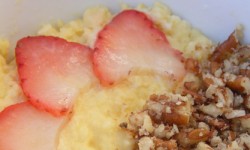 Do you ever get those temptations to have something sweet, but you just don't want to make a whole batch of something because you don't want it sitting in your kitchen screaming your name all week?
::giggle::
Well, I get that way sometimes.  HA!
My daughter has been finding all these recipes online recently about something-in-a-mug.  One serving of something, and one serving only.
I thought to myself, what an ingenious idea!  Let me create some P3 friendly recipes like that!
Once you make this, you can garnish it with almost anything you want, I chose pecans and strawberries, only because they are two of […]