One of my very first experiences with Starbucks was my introduction to the Pumpkin Spice Latte.
I was out with a group of friends and it was a particularly cold day in December in Charleston, SC and the group wanted to stop at Starbucks. At the time, I was against anything having to do with SB cause I thought it was a waste of peoples money. Way too expensive, and really, what was the use. Coffee is coffee.
Boy, was I wrong. ::giggle::
What they neglected to tell me at the time was that it was a "seasonal" thing. Ok, sure, I should have figured it out. But I didn't. So come January when I had already been properly addicted, I went up to the window, ordered a Venti Pumpkin Spice Latte and was met with, I am sorry but we wont have them again until the fall.
I was like HUH??? WHAT??? I balked, I pouted, I even asked them, ARE YOU SERIOUS??? And the reply was, yes. That's it. It's done.
Over the years I have not been able to replicate the taste with anything that has been close.
Until now.
I just tested this recipe, and I can tell you, it's going to become a mainstay in the Biz household. Like every morning. No seasonal stuff here baby, ALL YEAR LONG!
Ok, sure, I will get tired of it I am sure, but for now, it's on my menu. Yum.
And so filling, here it is hours later, and I forgot to eat my lunch. I made it with half and half, can you imagine if you made it with heavy whipping cream? OH MY!!!
Enjoy it! I did!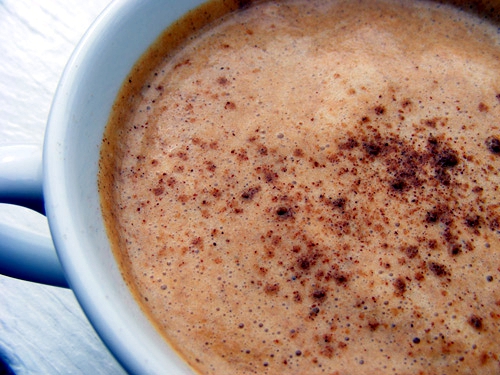 Pumpkin Spice Latte
2 servings
10 minutes prep
15 minutes start to finish
1/2 cup pumpkin puree (canned)
1 cup half and half (no carrageenan)
2 tbsp light brown sugar (or sweetener of choice)
1 tsp pumpkin pie spice
1 tsp pure vanilla extract
1 cup strong coffee
Brew coffee.
Blend the pumpkin, half and half, brown sugar, spices, and vanilla.  Place in a sauce pan and heat on low until the milk is warm and frothy.
Pour half this mixture into a coffee mug, then fill the rest with strong coffee. Stir.  If needed, add your choice of sweetener to taste.  Sprinkle with nutmeg and you are done!
Entire Recipe:
487 Calories
29g Fat (52% calories from fat)
10g Protein
51g Carbohydrate; 6g Dietary Fiber
90mg Cholesterol; 122mg Sodium; 564mg Potassium
Per Serving:
244 Calories
14g Fat (52% calories from fat)
5g Protein
25g Carbohydrate; 3g Dietary Fiber
45mg Cholesterol; 61mg Sodium; 282mg Potassium
Serving Idea:  Add homemade whipped cream for an extra high fat delight!
Note:  You can double or triple this recipe and keep it in the fridge for a few days.  Every morning can be a delight with already prepared Pumpkin Spice Latte!