Is it possible to be a avocado-holic? If so, I admit that I am powerless over avocados.
::giggle::
But seriously folks. What a wonderful piece of perfection an avocado is. It is my mainstay in the high fat diet. And when they are 10 for $10 at my local grocery store, well then, it's time to fiddle with perfection!
Two qualities of avocados that I adore: high in potassium and lots of fiber!
This recipe is my mainstay on the high fat diet. I have this available whenever avocados are in season. LOVE LOVE LOVE this recipe because in actuality, you can put any veggies in this that you want. Avocados are not picky, they can pretty much compliment almost any veggie. I have added raw zukes, or yellow squash. I have added celery for a little bit of a crunch. Can you say YUM?
This recipe is best when made fresh and let cool in the fridge for about an hour before eating. It can last a day, but as is the way with avocados has a tendency to turn brown. One thing I have found that helps is save the seed and put it in the container with the salad and it seems to hold off the browning.
Enjoy!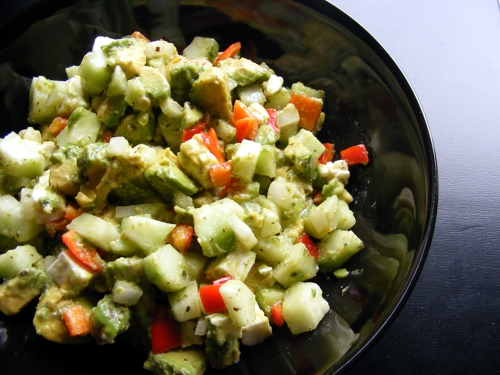 Avocado Feta Salad
6 servings
10 minutes prep
2 hours and 10 minutes start to finish
2 roma tomatoes, diced
1 ripe avocado, peeled, pitted and chopped
1/4 cup finely chopped red onion
1/2 small cucumber, peeled, seeded and chopped
1/4 bell pepper, chopped (your choice of color)
1 clove garlic, minced
1 tbsp fresh parsley (or 1/2 tsp dried)
1 tbsp fresh oregano (or 1/2 tsp dried)
1 tbsp olive oil
1 tbsp red wine vinegar
4 ounces crumbled feta cheese
In a bowl, stir together gently the tomatoes, avocados, onion, and garlic. Mix in parsley and oregano. Stir in the olive oil and vinegar. Then stir in feta. Cover, and chill for about 2 hours before serving.
Entire Recipe:
771 Calories
65g Fat (73% calories from fat)
22g Protein
33g Carbohydrate; 13g Dietary Fiber
101mg Cholesterol; 1306mg Sodium; 1717mg Potassium
Per Serving:
128 Calories
11g Fat (73% calories from fat)
4g Protein
5g Carbohydrate; 2g Dietary Fiber
17mg Cholesterol;218mg Sodium; 286mg Potassium
Serving Idea:  Absolutely awesome on a bed of lettuce!
Note:  If you take this to a gathering, make enough, it never lasts!