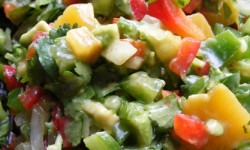 Who would have thunk that avocados and peaches would just naturally fit together to make an incredible taste?
Salsa's a perfect accompaniment to almost any meal, however this sweet and spicy concoction goes best with fish (salmon) or chicken, and grilled preferred.  Quick, there is only a few days left of summer!
Did you know that salsa is Spanish for sauce, usually based in tomatoes.  This however doesn't have any tomatoes to be found!  I don't care.  HA!  It's delish no matter what you call it.
Avocado Peach Salsa
2 servings
10 minutes prep
20 minutes start to finish
1 peach, diced
1 avocado, diced
1 jalapeño, seeded and […]