Ok, so it's avocado season again. And when I say avocado season, I mean it's the season where you can pick them up at the store for a dollar a piece. That is a steal of a deal for a meal!
I love avocados just as serving platters, as this recipe attests to. You can do just about anything you want with the stuffing, experiment. Yum, I love the freshness of this recipe.
Enjoy!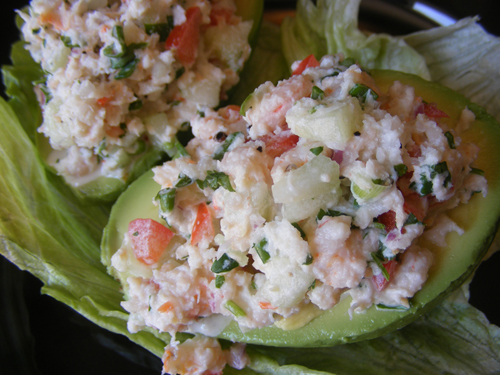 Avocados Stuffed with Seafood
2 servings
15 minutes prep
30 minutes start to finish
1 4.25oz can crab meat
1 4.25oz can tiny shrimp
4 tbsp peeled and diced cucumber
1 tbsp sweet onion, minced
1 tbsp red onion, minced
1 tbsp green onion, chopped
1 roma tomato, chopped
1 tbsp chopped cilantro
1/2 lime, juiced (1 tbsp approx.)
2 tbsp mayonnaise
1/2 tsp salt
1/2 tsp fresh cracked pepper
1 pinch paprika (optional)
2 avocados
In a bowl, mix the crab, shrimp, cucumber, red, sweet and green onions, tomato, cilantro and mayo. Season with salt and pepper. Cover, and chill until serving.
Slice the avocados lengthwise, and remove the pit. Gently remove the peel. Spoon the seafood mixture into the hollowed centers of the avocado halves. Sprinkle the tops with paprika.
Entire Recipe:
1134 Calories
89g Fat (66% calories from fat)
57g Protein
45g Carbohydrate; 13g Dietary Fiber
375mg Cholesterol; 2373mg Sodium; 3276mg Potassium
Per Serving:
567 Calories
44g Fat (66% calories from fat)
28g Protein
22g Carbohydrate; 6g Dietary Fiber
187mg Cholesterol; 1186mg Sodium; 1638mg Potassium
Serving Idea: You can stuff, or you can take one half of the avocado and chop it and add to the stuffing. No joke, this isn't as good alone as it is with the avocado. The texture and taste of the avocado really adds to this!
Note: Very quick meal. And you can use anything in place of the crab and shrimp, do it to your liking!