Who would have thunk that avocados and peaches would just naturally fit together to make an incredible taste?
Salsa's a perfect accompaniment to almost any meal, however this sweet and spicy concoction goes best with fish (salmon) or chicken, and grilled preferred.  Quick, there is only a few days left of summer!
Did you know that salsa is Spanish for sauce, usually based in tomatoes.  This however doesn't have any tomatoes to be found!  I don't care.  HA!  It's delish no matter what you call it.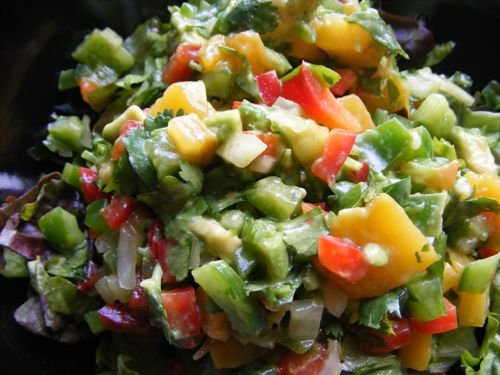 Avocado Peach Salsa
2 servings
10 minutes prep
20 minutes start to finish
1 peach, diced
1 avocado, diced
1 jalapeño, seeded and minced
1/2 medium red pepper, chopped
1/2 medium green pepper, chopped
1/4 cup cilantro, chopped (or to taste)
1/2 small red onion, finely chopped
1/2 lime, juiced
salt, to taste
Place all of the chopped ingredients together in a bowl. Squeeze the lime over the top and toss gently.  Add salt to taste.
Entire Recipe:
453 Calories
32g Fat (57% calories from fat)
8g Protein
45g Carbohydrate; 12g Dietary Fiber
0mg Cholesterol; 40mg Sodium; 2086mg Potassium
Per Serving:
226 Calories
16g Fat (57% calories from fat)
4g Protein
22g Carbohydrate; 6g Dietary Fiber
0mg Cholesterol; 20mg Sodium; 1043mg Potassium
Serving Idea:  Great on a bed of lettuce!  Also great as a dip for Blue Organic Corn Chips.  For added umph, consider a half a can of rinsed black beans added to the mix!
Note:  Best if your peach and avocado are still firm.  That way it wont be a mushy salsa.