What isn't good with bacon in it?
::giggle::
This dip is actually better at room temp, after it has been chilled for several hours to let the flavors meld.
Enjoy!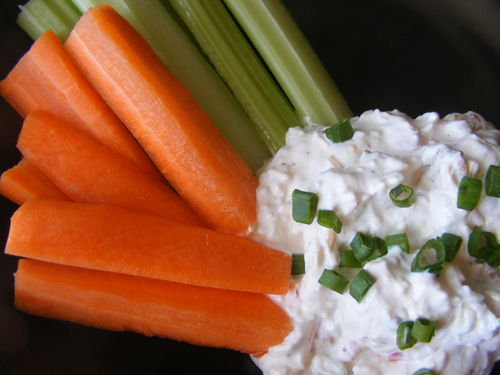 Bacon Tomato Dip
8 servings
15 minutes prep
2 hours and 15 minutes start to finish
1 cup sour cream
1/2 cup mayonnaise
4 oz cream cheese, room temperature
1/2 cup shredded cheddar cheese
1/2 tsp garlic powder
1/2 tsp fresh cracked pepper
1 tsp horseradish
2 tbsp chopped sweet onions
2 tbsp chopped green onions
1 roma tomato, diced (seeded if possible)
6 slices bacon, cooked, drained, and crumbled
Stir together all ingredients until well mixed. Chill for two hours before serving.
Entire Recipe:
2170 Calories
219g Fat (88% calories from fat)
45g Protein
24g Carbohydrate; 2g Dietary Fiber
357mg Cholesterol; 2060mg Sodium; 1128mg Potassium
Per Serving:
271 Calories
27g Fat (88% calories from fat)
6g Protein
3g Carbohydrate; trace Dietary Fiber
45mg Cholesterol; 257mg Sodium; 141mg Potassium
Serving Idea: Serve with your favorite veggies.
Note: