Chili.  Yum.
There are all sorts of recipes for chili's available.  It's a long standing recipe that people have made their own for decades.
I never liked chili growing up because I never liked kidney beans.  I didn't realize until much later in life that chili can mean almost anything!
Over the years, I tend to enjoy white chili's more than red, however, this is one that I always come back to.  But then again, I happen to really love black beans.  ::giggle::
What is totally awesome about chili is that even though it's not "high fat" on it's own, you can make it that way by adding things to it!  I can't imagine eating this chili without a little bit of cheese and sour cream.  Yum Yum.
Enjoy!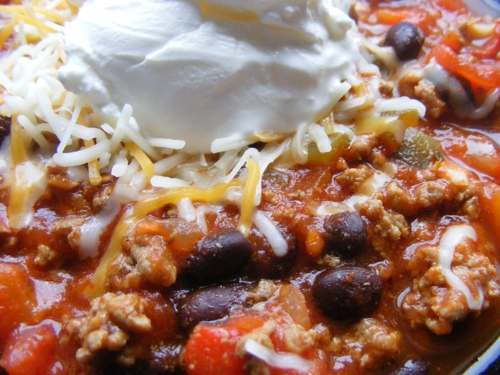 Black Bean Chili
6 servings
20 minutes prep
120 minutes start to finish (mostly simmering time)
1 1/2 pounds ground beef (90/10 preferred)
1 large sweet onion, diced
1 red bell pepper, diced
2 large cloves garlic, minced
1 small can (4 ounces) chopped mild green chile peppers
2 cans (14.5 ounces each) diced tomatoes
1 can (8 ounces) tomato sauce
1 1/2 tsp chili powder
1/2 tsp ancho chile powder or more chili powder
1/2 tsp ground cumin
1/4 tsp leaf oregano
dash chipotle chile powder, optional (can use one chipotle chili in adobo sauce for flavor)
1 can (15 ounces) black beans, rinsed and drained
salt and pepper, to taste
In a large deep skillet or Dutch oven, brown the ground beef; add onion and bell pepper and saute until onion is tender. Add remaining ingredients. Simmer over low heat for about 1 to 2 hours, or transfer to the slow cooker and cook on LOW for 4 to 6 hours.
Entire Recipe:
3057 Calories
187g Fat (54% calories from fat)
166g Protein
185g Carbohydrate; 45g Dietary Fiber
579mg Cholesterol; 2049mg Sodium; 6876mg Potassium
Per Serving:
510 Calories
31g Fat (54% calories from fat)
28g Protein
31g Carbohydrate; 8g Dietary Fiber
96mg Cholesterol; 341mg Sodium; 1146mg Potassium
Serving Idea:  Serve with a dollop of sour cream and some white cheddar cheese.  Or for an added zing, throw some cilantro on it!  ::giggle::
Note: