This recipe is for P2, or if you are on the Mix It Up Experiment, it can be for Stage 1 or 3 (add sour cream) … it's a variation of the recipe for Taco Salad.
Salads are one of my mainstays while on P2 … they are so portable … don't need any heating up, and you can make it ahead of time (night before) and throw it in a cooler when you are ready to go.
I have gotten into the habit lately of chopping a lot of salad veggies and putting them in small mason jars … that way I have the fixings for almost any salad available for days at a time.  It is sort of amazing how long chopped veggies stay fresh in mason jars.  Give it a shot and see … saves time and helps you stay on track!
Enjoy!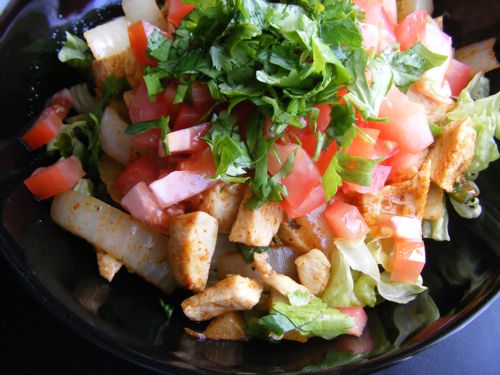 Chicken Taco Salad
1 serving
10 minutes prep
15 minutes start to finish
3.5 ounces chicken breast (cubed small)
1 tablespoon chicken stock
1 teaspoon taco seasoning, homemade
2 tablespoons chopped onion
1 small jalapeno, chopped small (to taste)
1 tablespoon lime juice
1 roma tomato, chopped
3 ounces lettuce, chopped
cilantro to taste
Brown chicken over medium heat with chicken stock and taco seasoning until done, drain.  Let cool.
Mix the lime juice with the jalapeno pepper…this is your dressing.
Layer lettuce, tomato, onion and meat mixture and then top all with dressing and make pretty with cilantrol.  Yum!
Entire Recipe:
178 Calories
3g Fat (17% calories from fat)
25g Protein
13g Carbohydrate; 4g Dietary Fiber
61mg Cholesterol; 227mg Sodium; 763mg Potassium
Serving Idea:  
Note: If you are doing a higher fat version of the protocol, you can add a dollop of sour cream and this becomes a double yum factor!