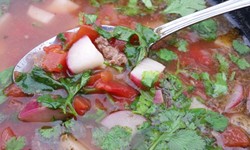 Brrrr, it's cold outside!
A lot of the country is surrounded by cold … and what is better than to warm yourself up from the inside out?
When you are on P2, the body tends to react to cold a little bit differently than when you are eating normal maintenance.  Most seem to stay cold, so warm foods are just the ticket.
I know my favorite go to soups/stews are those with beef and tomatoes.  They just seem to create a hearty and satiating meal that warms me up inside.  This soup adds radishes to act like a potato … and if you […]