When I was growing up, this was ALWAYS in the fridge.  It is one of those things you never get tired of.  Recently I found out that some type of meringue is a staple for many cultures.  Most cultures will have some sort of meringue as a normal after dinner snack.  This is no exception.  My Mom tells me that it's from Portugal, but couldn't find verification of that?  HA!
When Googling around to see if gelatin was an OK Phase 3 food, I came across this fascinating article.  It's quite long, so if you want the cliff notes, let me give it a shot:
Gelatin = Good
::giggle::
But seriously, take some time to read the article, it's full of awesome information.  I am already on a journey of discovering broth and it's tremendous benefits, this article just seems to cement the research I have already done.
Ok, that was off topic!  This recipe is SO EASY to make, and it's incredibly pretty!  And perfectly P3 friendly, which this recipe can easily be adapted to by subbing your favorite artificial sweetener, but I chose to give you the original recipe here.  Enjoy!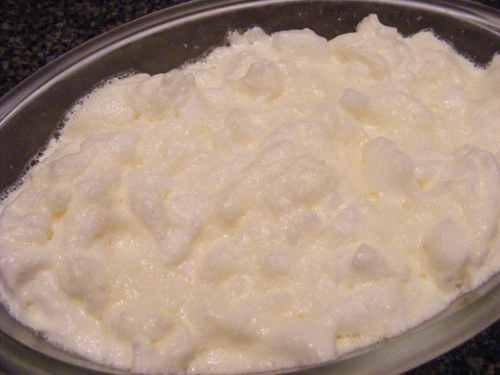 Spanish Cream
4 servings
20 minutes prep
4 hours and 30 minutes start to finish (for chilling and setting)
1 cup milk
1 cup half and half
1 envelope of powdered gelatin (3 tsp)
2 large eggs, divided (room temperature)
1/3 cup caster sugar
1/4 tsp salt
1/2 tsp vanilla
1 tbsp Cointreau (optional)
Make sure that the eggs are at room temperature.
Take 1/2 of the milk and pour in a small bowl, stir in the gelatin.  Set aside to soften.  If by chance the gelatin gets stiff before you have to use it, don't worry, it will dissolve in the hot liquid you will be adding it to.
Put the remaining milk and cream into a small saucepan and heat gently until the mixture is hot, but not boiling.
Beat the egg yolks, caster sugar and salt together with a hand beater for about two minutes, it should get pale and fluffy.   Take some of the hot milk mixture and pour it on the egg yolk mixture, mix well then pour all back into the saucepan.  Stir gently.
Add the softened gelatin to the saucepan and stir over very low heat for about 4-5 minutes, until mixture thickens slightly.  DO NOT BOIL as this will curdle the egg.
Now put the saucepan into a sink with a few inches of cold water and stir every now and then until the custard is warm, not hot. Stir in the vanilla and Cointreau (optional).
Beat the egg whites until stiff, pour on the custard and very gently fold everything together with a metal spoon.
Pour into 4-6 individual glasses, or one pretty bowl. Put in the fridge to set for a few hours.
Entire Recipe:
4605 Calories
46g Fat (32% calories from fat)
34g Protein
183g Carbohydrate; 0g Dietary Fiber
546mg Cholesterol; 1107mg Sodium; 823mg Potassium
Per Serving:
326 Calories
11g Fat (32% calories from fat)
9g Protein
46g Carbohydrate; 0g Dietary Fiber
137mg Cholesterol; 277mg Sodium; 206mg Potassium
Serving Idea:
Note:  If you want the Spanish Cream to be fluffy all through and not separated into two layers, let the custard cool completely before mixing it with the beaten egg white.